Meet Packback
Life at Packback
is all about creativity, fun, and continual growth!
We are a vibrant community of friends, family members, and innovators dedicated to sparking curiosity in higher education.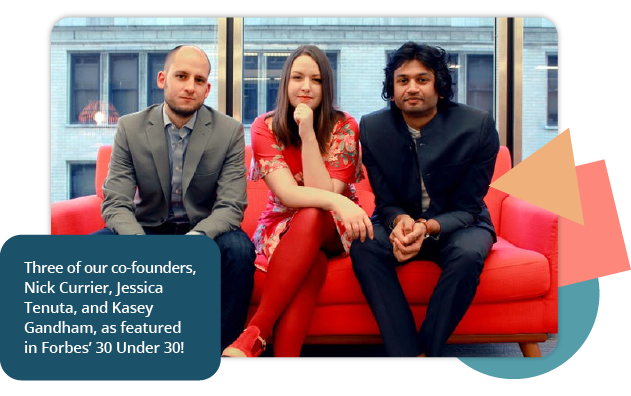 Packback started out as a pay-per-use textbook rental company, under the name Packback Books (you may have even seen some of us on Shark Tank!). However, we soon realized that there was a much greater need in higher education — the need for a platform that encouraged genuine, self-motivated, student curiosity. Now, as Packback Questions, we are dedicated to helping students learn to ask better questions at a time when most of education (and AI research) is interested in giving people answers.
"My growth is a true testament to Packback's dedication to amazing management and creating opportunities for everyone who works here. Seeing the professors I've built relationships with become closer to their students is really special."
"From emotional donuts and spinning wheels to trying hot sauce and reciting poems during meetings, our culture is goofy, memorable and irreplaceable. I love working at a place where you can't put our culture into words, rather you have to tell it through story!"
"I enjoy working at Packback because I feel that I have been able to forge a path at the company that will help me in future endeavors. Packback is a place where there is a lot of opportunity for growth and taking ownership. We are encouraged to take an active role in the development of the company and its culture. Not to mention, all the amazing educators that we get to work with here at Packback."
Our Teams

Direct to Professor Sales
Strategy consultants are musicians, football fantasy league coaches, former teachers, and even previous Packback student users. Our varied backgrounds are what help us make real, human connections when working with professors–and of course, set them and their students up for success on Packback!

Customer Success
Whether you need guidance on how to best utilize the platform, help resetting your password, or maybe just a great new Sourdough recipe, our Customer Success team is here to help. There is no question too big, problem too small, or conversation too off-topic for our team of beautiful, tropical fish.

Engineering/Product
Packback's product team is in charge of figuring out how Packback can help awaken the curiosity in every student and professor. The engineering team executes on that vision to make a Packback a lovable, accessible experience–while also ensuring it remains safe, secure, and reliable. Also, they are funny and cool.

Operations
Finance, Operations, and People Ops work to hold it all together. We ensure that the operations run smoothly, that our books are properly accounted for, and that we are put in a position to succeed in the future.

Enterprise Higher Education
It takes a village to raise a family, and it takes Enterprise to implement Packback at an institutional scale. We're all about growing the company to have maximum reach and impact; all the while, still working 1:1 with professors and students to redefine curiosity in their curriculum.

Enterprise K-12
Enterprise K-12 strives to be Packback's tour de force of new markets. Part Power Rangers, part Inspector Gadget, we are a small, resourceful team that turns every new challenge into an opportunity to explore a new approach to success, and help teachers drive student inquiry.