In a new article for Fierce Education, Chief Learning Officer at Penn Foster College, Dr. Andy Shean, shares how institutions can successfully implement online discussion to energize students and create engaging learning environments. The key? Moving away from "traditional" discussion forums in favor of methods that challenge students to think critically.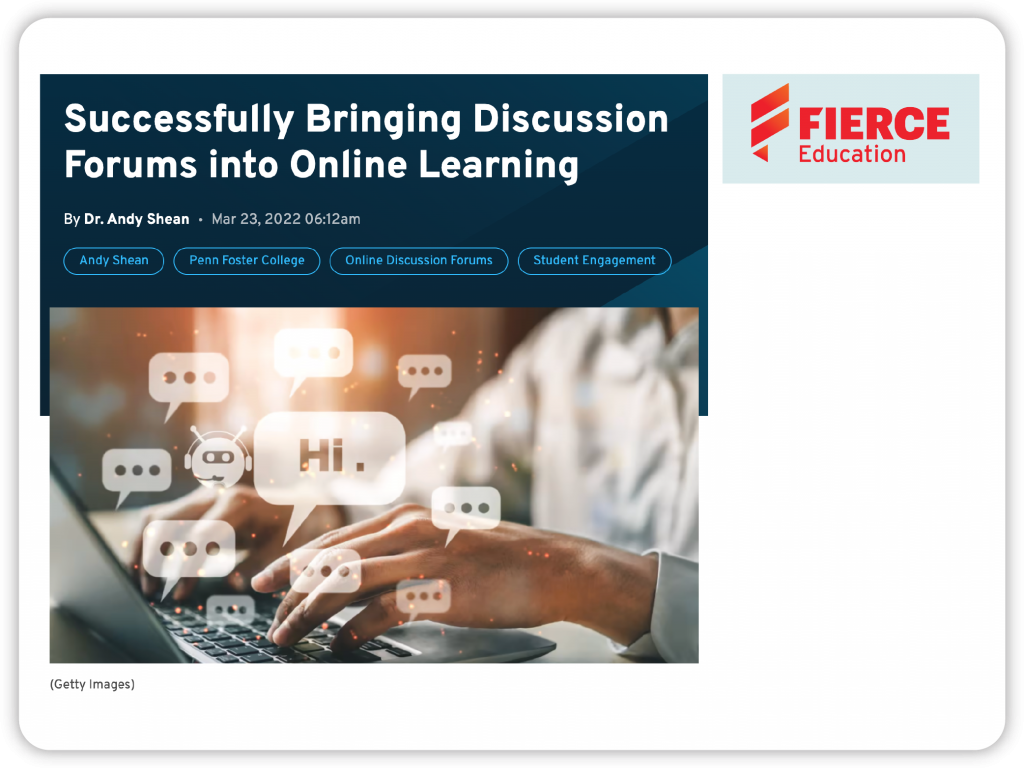 In the past two years, higher education has been forced to adapt to change like never before. However, writes Dr. Andy Shean, that rapid change may be responsible for shedding light on what actually works when it comes to engaging students.
Since the beginning of the pandemic, it's become clear that building a sense of community is essential to facilitating strong classrooms. Dr. Shean suggests that this shift towards community-centered learning has illuminated a need for discussion methods that help build students' social presence, offering Packback as an example.
As the needs of today's learners evolve, writes Dr. Shean, so should the methods that we use to cultivate their critical thinking skills. Packback's socially motivated platform achieves this, helping students build community through inquiry-driven discussion.
"Automate the process. Artificial intelligence has gotten sophisticated enough to grade and provide real-time feedback on discussion posts. Packback, for instance, takes it up a notch by offering a so-called "curiosity score," which provides immediate feedback that incentivizes students to write well-articulated and well-supported responses to forum posts. In an online forum, AI can be an instructor's best digital friend.

Online discussions shouldn't be useless to students, meaningless for instructors and a graveyard where half-baked discussion topics go to die. With some simple practices and the support of emerging technology, it's possible today to build a much better online discussion experience that students will respond to positively not because they're programmed to do so but because they genuinely want to."

Excerpt from "Successfully Bringing Discussion Forums into Online Learning"
---