After over a decade of co-building Packback & serving in the CEO capacity, I'm thrilled to pass the torch to Kelsey Behringer, our COO, to lead us into the future as Packback's next CEO.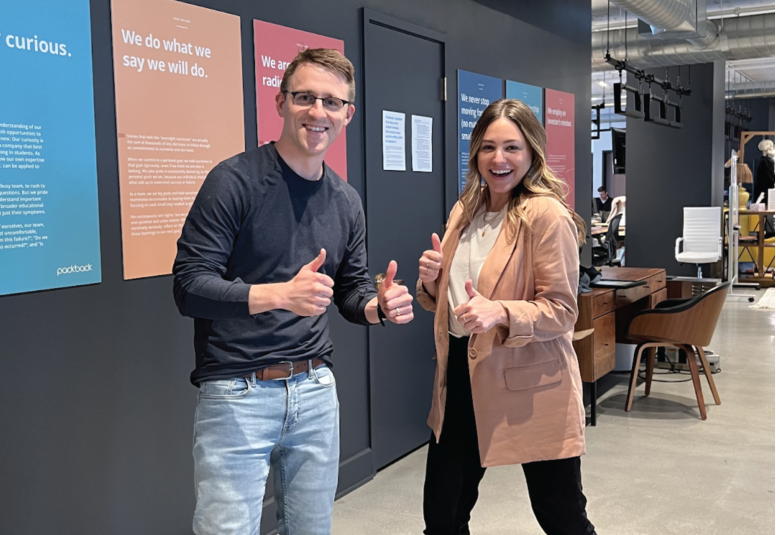 What a ride it's been! I was a twenty-one year old college student when the life-changing opportunity arose to team up with a few friends, scribble ideas onto a whiteboard, and begin what became a 10+ year journey in building Packback. It's been the opportunity of a lifetime to serve a wide-ranging community of stakeholders in the CEO capacity, and I'm just as thrilled about what's to come with Kelsey Behringer at the helm. So let's talk.
Why the change? Simply put: it's time. Now being a husband and dad of two young kids, active in my twelfth year with our team at Packback, it was simply time for me to begin a new journey once again, and allow Packback to grow to unforeseen new heights with a dynamic new leader at the helm. I look forward to remaining active in meetings with our Board of Directors, and cheering along in a peer & coaching capacity with a variety of my long-cherished teammates.
Why Kelsey Behringer? Ohhh, where to begin?! Talk about a dynamic, purpose-driven leader. Ok, here's my brief scoop on Kelsey: currently Packback's COO, Kelsey has early professional roots as a high school chemistry teacher, in which she pursued an inquiry-driven curriculum very much aligned to the design principles of Packback Questions. When she joined Packback, initially as an "Experience Manager" working with a range of our key professor accounts, she immediately began building & scaling both our internal operational systems and our client-facing systems that have allowed Packback to scale its best-in-class customer care. Over the years, as she moved through the ranks from Manager → Director → Vice President → COO, Kelsey continued as the operational "rock" on which much of Packback's growth was built upon.
In Kelsey Behringer we have the perfect combination of an educator-at-heart who has been a selfless partner to the countless Packback clients she has personally worked with, and an empathetic, hyper-enthusiastic, and fun (to the point of 'goofy', perhaps?) leader to our Packback team.
The future is indeed brighter than ever for our partners and team here at Packback. There's never been a more important time to help every student develop their unique voice…and the writing skills to express it. Oh and by the way – because we love curiosity gaps – just wait until you see what Kelsey and our product team have coming up next!
I want to say "thank you" to everybody who ever took a chance on me and lent a helping hand to Packback's founding journey in any kind of way over the past decade. I promise to go and do likewise.
Never stop moving forward, no matter how small the step.
– Mike