In a recent article from Fierce Education, Peggy Bresnick connected with Packback's co-founder Jessica Tenuta for an overview of the features of Packback Instruct, the newest add-on for Packback. Bresnick also spoke to Ayana Jamieson, Ph.D. about how she has found success with the platform in her courses.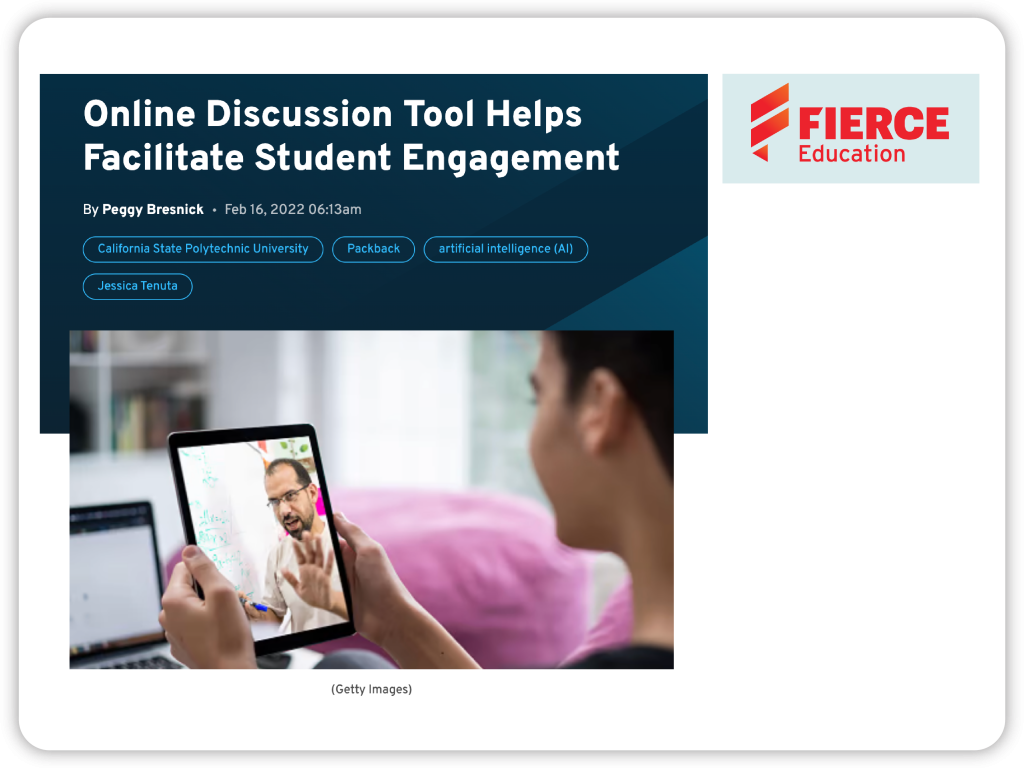 In a new article from Fierce Education, Packback co-founder Jessica Tenuta explains the three new features rolled out with Packback Instruct: Discussion Polls, Interactive Insights Dashboard, and Match & Message – which collectively give instructors more power to support their students inquiry-based learning.
One of Packback's users, Ayana Jamieson, Ph.D. shares her own experiences with the platform and newest features. As a user since 2019, Dr. Jamieson has had a lot of success using Packback in her online courses.
With Packback Instruct, Dr. Jamieson has been able to further support students in their learning while keeping them at the center of it.
"'Packback Instruct has been especially helpful when reviewing for exams (via the Polls) feature, sending students targeted feedback and coaching and helping them develop critical thinking skills for challenging material,' Jamieson said. 'Students really like interacting on the Community Curiosity Thread, rather than a traditional discussion forum.'

'I post sample questions for exam review as so student will be able to test their knowledge in real time and prepare for the test. I love being able to send Match and Message notes to students who have not met the final requirements and see which students I have interacted with and how throughout the week,' she added."

Excerpt from "Online Discussion Tool Helps Facilitate Student Engagement"
---