In a recent article for The EvoLLLution, John Cavanaugh writes about best practices for stimulating student curiosity in the age of remote learning. The key? Implementing solutions that encourage students to challenge themselves through critical analysis. Cavanaugh points out Packback's "thoughtful, creative approach to online learning" as one effective approach for engaging students.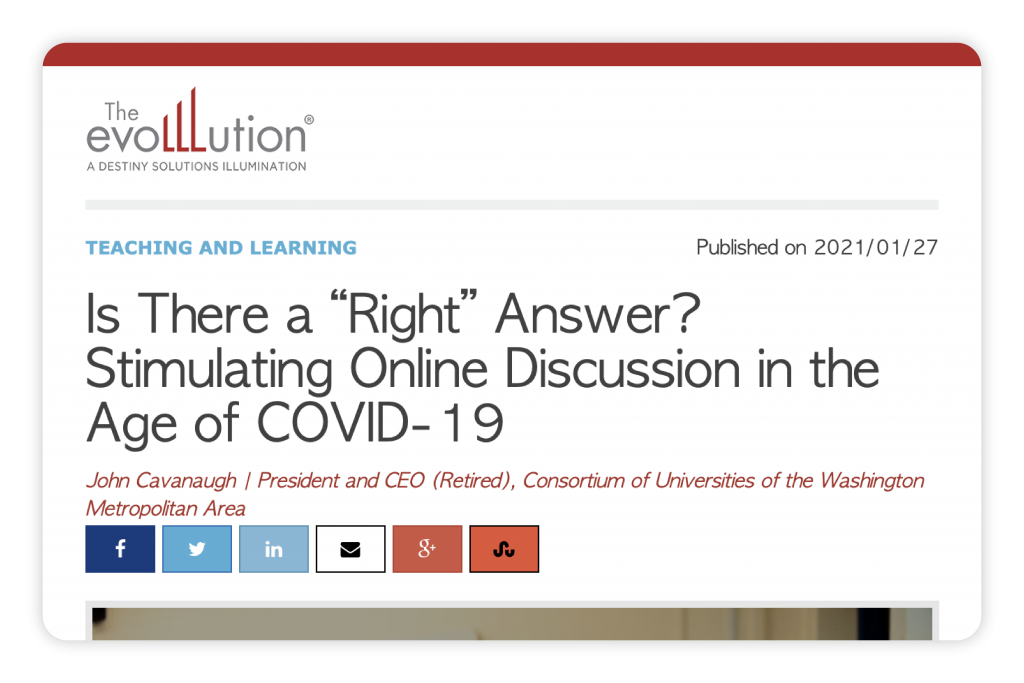 With many institutions continuing remote instruction into 2021, faculty are faced with new questions and ample lessons learned from a tumultuous fall semester. How will approaches to creating stimulating online learning environments change given the knowledge we have now? What does the "right" solution look like for students and educators?
In a recent article, John Cavanaugh shares how instructors can approach online learning without losing the quality and energizing rhythm of face-to-face classes. The key, writes Cavanaugh, lies in avoiding "easy" solutions and taking careful measures to ensure that teaching practices remain challenging while encouraging students to be autonomous.
Implementing technology that takes a creative approach to online learning can be one way to curb lack of motivation in students and keep course material exciting. Research-backed solutions like Packback offer an inquiry-based approach, placing students at the center of the learning experience.
"As it turns out, a thoughtful, creative approach to online learning may provide a more effective environment for student-led discussion than one might think–a type of discussion which, more than any other, helps students confront their beliefs and experiment with reflective judgment.

Emerging research into online platforms like Packback, which takes an inquiry-based approach to facilitating discussion, suggests that these tools can encourage student participation in ways that both build in the advantages of face-to-face settings, and provide private, personalized feedback.

Such platforms enable students to iterate their responses before posting them and to contribute to complex conversations with less anxiety about being judged by their peers."

An excerpt from "Is There a "Right" Answer? Stimulating Online Discussion in the Age of COVID-19"
---