A national study conducted on the use of artificial intelligence in the classroom has led to a three-year contract between HACC, Central Pennsylvania's Community College, and Packback. Among findings from the study are improved student engagement and better discussion quality.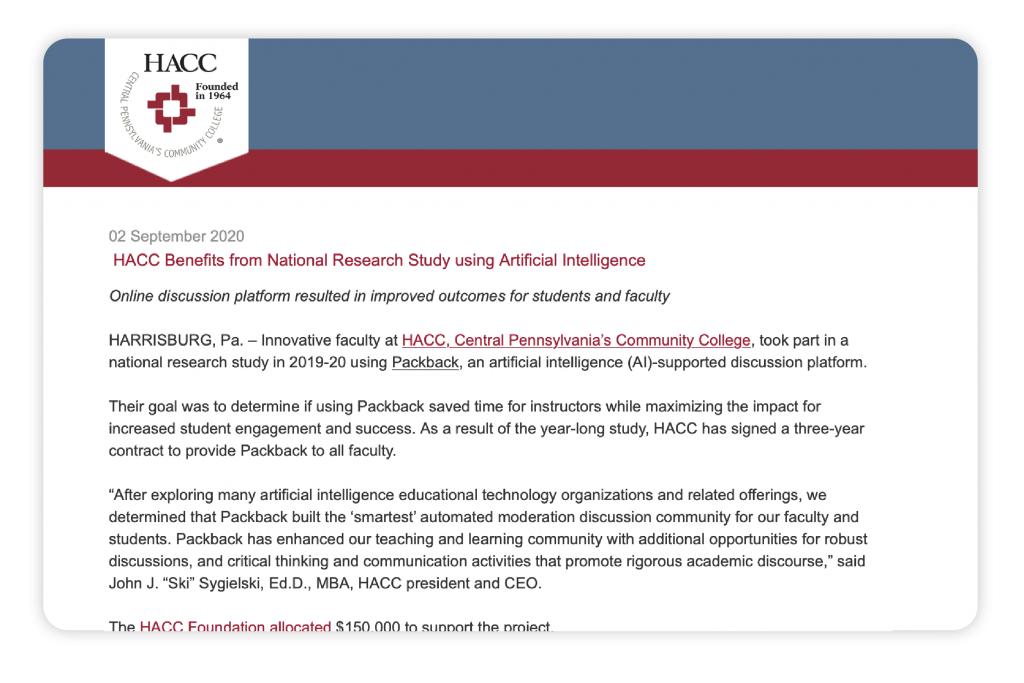 After taking part in a national research study on the use of Packback to optimize learning outcomes in the classroom, faculty at HACC have found major results that have led to the signing of a three-year contract.
 
The study's goal was to determine if using AI-powered discussion actually saved instructors' time and maximized student engagement with subject material.
After faculty using Packback had success in their classes, a three-year contract to provide Packback to all HACC faculty has been signed. The HACC Foundation has allocated $150,000 in support of the project.
"After exploring many artificial intelligence educational technology organizations and related offerings, we determined that Packback built the 'smartest' automated moderation discussion community for our faculty and students.

Packback has enhanced our teaching and learning community with additional opportunities for robust discussions, and critical thinking and communication activities that promote rigorous academic discourse," said John J. "Ski" Sygielski, Ed.D., MBA, HACC president and CEO.

An excerpt from "HACC Benefits from National Research Study using Artificial Intelligence"
---