On July 8th, 2020, Packback released a major new feature, Instant Feedback, which elevates the detail, responsiveness, and depth of feedback provided to a student while they write their posts on Packback. This new feature represents a major step forward in the use of AI to support Mastery Learning at-scale through instant feedback.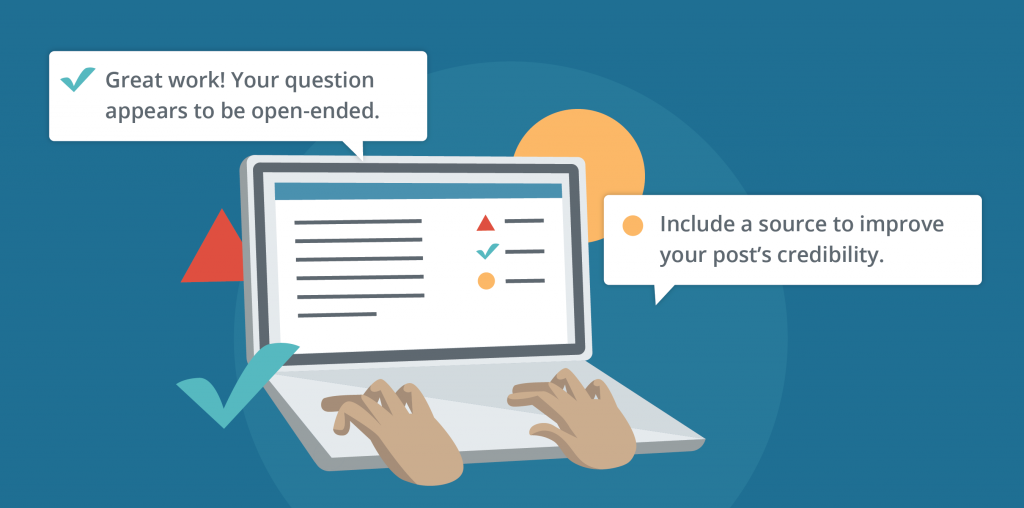 What is Instant Feedback?
Packback's Instant Feedback is dynamic, real-time AI-based feedback provided to students as they type their discussion posts on Packback. With this feature, students' posts dynamically receive feedback provided by Packback's AI while they type, on four categories of feedback: Curiosity, Communication, Credibility, and Convention.
By giving students detailed feedback in real-time and enabling them to revise and improve their work before submission, Instant Feedback is designed to support mastery learning, a strategy rooted in the idea that students can master any concept with the right practice and support.
"This resource will provide students with the kind of immediate feedback that technology can offer at scale – and enable faculty to dive deeper into substantive, engaging discussions that cultivate both curiosity and confidence."

Dr. John Locke, Coordinator, Technology Enhanced Learning and Distance Education at SUNY Plattsburgh.
---
---
How Instant Feedback works
Packback's Instant Feedback calls our AI algorithms in real-time, providing students with a preview of their Curiosity Score range, feedback on their written work (including grammar, spelling, and sentence fluency), and early alerts if their post may be flagged for any reason.
Watch our co-founder and Chief Product Officer, Jessica Tenuta, and Chief Technology Officer, Dr. Craig Booth give a tour of Instant Feedback in this webinar.
What kind of Instant Feedback can Packback provide?
Curiosity
The Curiosity category includes feedback on the effort, interest, and "discuss-ability" of the students' post, including feedback on:
If a question is open-ended or closed-ended
The length and depth of the description
The repetitiveness of the text
If their post may be flagged due to Community Guidelines
Credibility
The Credibility category includes feedback encouraging students to cite their source(s). Multiple independent studies have shown students on Packback are over 2x more likely to cite sources than on the LMS discussion.
Communication
The Communication category includes feedback on how effectively the student is communicating in their post, including feedback on:
The Appropriate Paragraph breaks
The Appropriate use of formatting
The Appropriate use of media (videos, images, links)
Convention
The Convention category includes feedback on:
Grammar
Spelling
Sentence fluency
Post Language
Note: The Convention category deliberately does not impact the student's Curiosity Score to ensure English Language Learners (ELL) are not penalized. Conscious action to avoid bias in AI algorithms is essential to building ethical AI tools for education.
---
How does Instant Feedback support learning outcomes?
Packback is an education technology company that takes academic research into learning science, motivation, and online engagement and applies these academic frameworks to build easy-to-use technology tools. Our goal is to take academic research out of the realm of theory and into the classroom through easy to use technology. Packback's Instant Feedback was informed by several well-known studies into Mastery Learning, motivation, and methods of evaluating written communication
1. Providing research-backed writing feedback
Based on the 6+1 Traits of Writing
The feedback provided by Packback's Instant Feedback maps to the categories of feedback recommended through this well-known framework for evaluating written work. Packback's design team used the 6+1 traits of writing to inform the 4 categories of feedback we provide and added additional feedback rules to better support the breadth of feedback recommended by the 6+1 Traits of Writing.
2. Inspiring students to want to write great posts
Based on Self-Determination Theory
Two of Packback's primary objectives are to support student curiosity and inspire student intrinsic motivation. Our platform has always focused heavily on Autonomy and Relevance, and the addition of Instant Feedback now increases the platform's ability to support the need for Competency ( clear expectations and feedback on performance) in creating an intrinsically motivating learning environment.
3. Using technology to scale mastery learning
Based on Bloom's 2-Sigma Problem
In the early 1980's learning scientist Benjamin Bloom performed a series of experiments comparing students who received 1-on-1 tutoring to those students who received only conventional classroom instruction and saw that 1-on-1 feedback led to performance 2 standard deviations higher than the baseline. Packback's Instant Feedback is an answer to this study, using modern AI technology to make 1-to-1 instant feedback tenable in any size class.