Packback has brought together leaders in higher education transformation for its newly formed Academic Innovation Board. Members of the Board include Eduardo J. Padron, President Emeritus of Miami Dade College, Marie Cini, Chief Strategy Officer at ED2WORK, and Rufus Glasper, President and CEO of the League for Innovation and Chancellor Emeritus at Maricopa Community College District.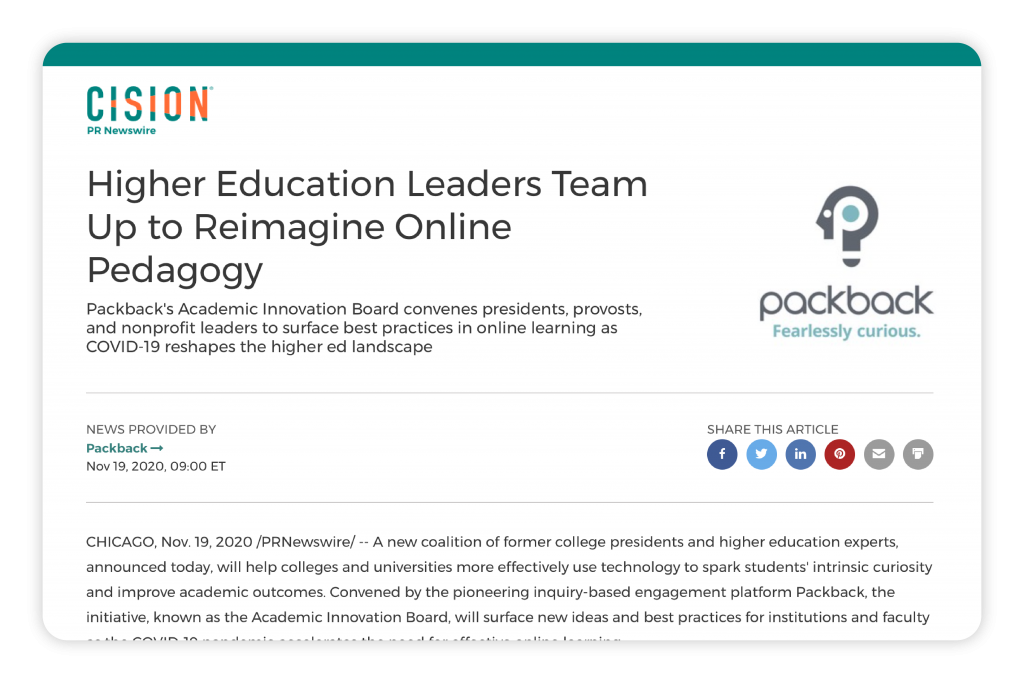 The Academic Innovation Board has brought together exceptional educators and leaders in innovation as part of Packback's mission to continually revolutionize and strengthen the higher education landscape.

The Board presents a unique opportunity for leaders from every sector of higher education to come together in seeking ways to design and implement the most impactful educational technologies.
As higher learning continues to shift in the wake of COVID-19, the Board comes at a time when technological innovation is essential to securing the future of education.
"The impact of COVID-19 is requiring the majority of college students to continue their education online. It is critical that they have access to the highest quality and most effective teaching and learning experiences," says Muriel Howard, former President at the American Association of State Colleges and Universities (AASCU) and former President at SUNY Buffalo State College.

"I am excited about working with my colleagues to help formulate and review the best practices and strategies that will offer each student a more supportive, and effective learning environment to improve academic outcomes."

An excerpt from "Higher Education Leaders Team Up to Reimagine Online Pedagogy"
---