Packback Instructor, Dr. Lydia Owens, was featured in the article, "How teachers are adapting to working remotely" in Fortune Magazine to share her experience supporting her students in the wake of the COVID-19 outbreak.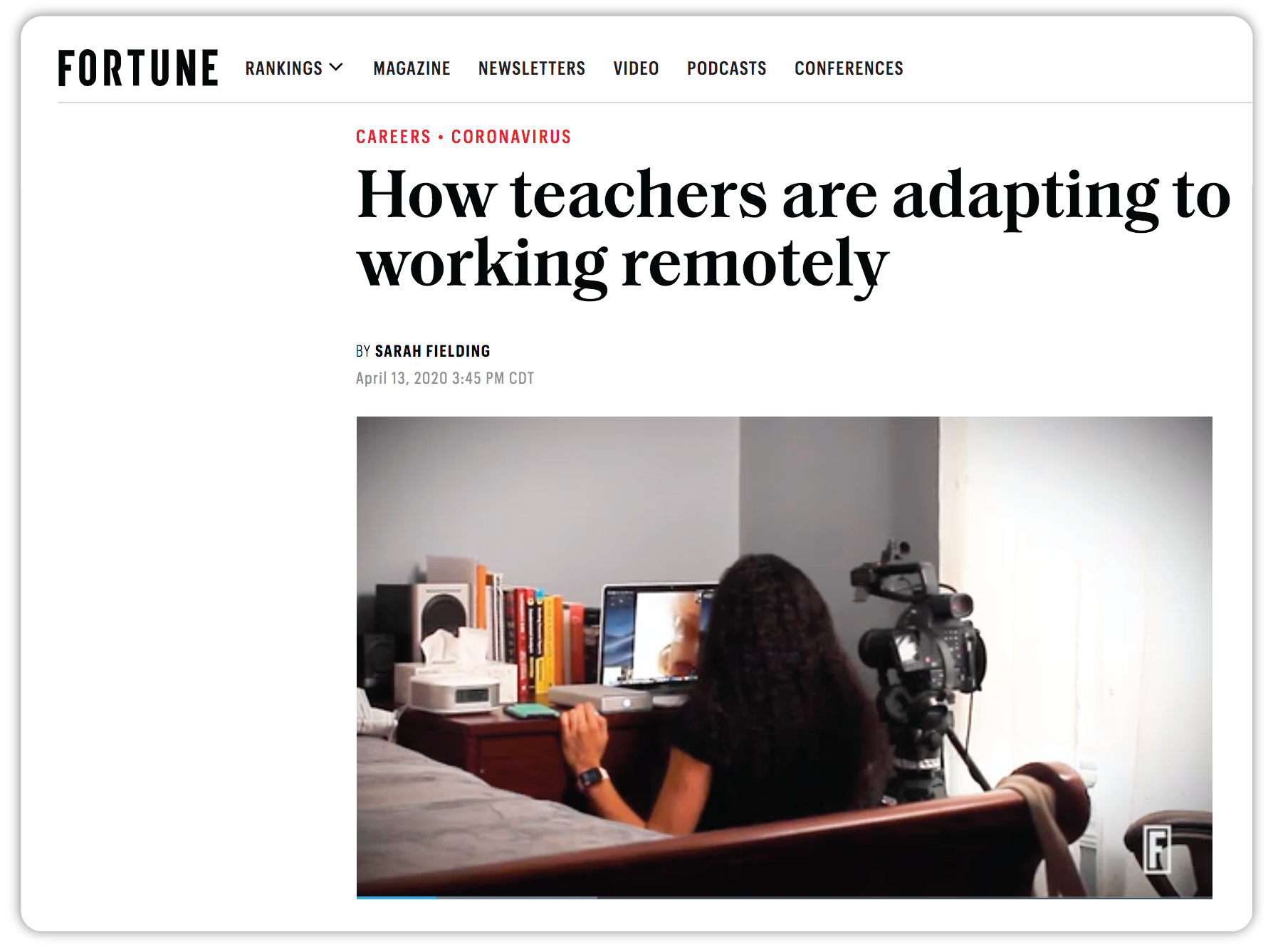 This article features stories from instructors across the US talking about the ways they have managed the abrupt transition to online instruction. Lydia shared how online discussion has given her a window into her students' perspectives, which has helped her lead her class through a difficult time with empathy and understanding.
"The best practices for teaching are being revealed in the online discussions they've been having," says Dr. Owens. "I've been adapting my course through that feedback, even though it's not directly to me. It helps me be more empathetic to them."

An excerpt from the article "How Teachers are Adapting to Working Remotely"
---
Read the full article in Fortune Magazine
---
A Conversation with Dr. Lydia Owens about Supporting Distance Learning with Packback
The Packback team spoke to Dr. Owens to learn more about how she used Packback to support her class' transition to distance learning due to COVID-19, and how the discussion community has helped keep her and her students connected.
Can you tell us a little bit about your teaching story?
LO: "I am an adjunct instructor in Sociology at Penn State. I discovered my passion for teaching in graduate school. In graduate school, I did everything I could to get as much teaching experience and training as possible. I have taught many different courses in sociology, but I love to teach Introductory Sociology because I love to see the students explore their taken-for-granted assumptions about the world from a sociological perspective. We get to talk about things that are relevant to all students and very often they get to think about things in a new way. I also love to teach Intermediate Social Statistics because the course is pragmatic training for their capstone research projects. I like working with them to refine the skills they'll need to complete their own research. As an added bonus, most students are nervous about the course, so I like being able to help show them that they can learn it!"
Why did you first decide to add Packback in your classes?
LO: "When I was first contacted about Packback, I had just discovered that my course had 125 seats! Previously, the largest course I'd taught was 30 students. I was very worried about the loss of engaging discussion which had been an important component in my smaller class; with such a large lecture, I wasn't sure how I would create an interactive learning community. Within a few minutes of talking with Devyn, I know that Packback would be a perfect fit for my course (which ultimately had 150 students!). I decide to adopt Packback for two reasons: 1) it allows me and my students to create a class community with rich discussion and 2) Packback is the perfect tool for the students to apply the sociological imagination to their own lives through sociological analysis of the things that are interesting to them!"
How did your goals for using Packback change after COVID-19 transitions occurred?
LO: "After we transitioned to distance learning, my goals for the students' use of Packback didn't change at all. Packback made the transition to distance learning so smooth because it provided us with continuity of our class community. Where it did really change my teaching, however, was in my ability to understand the students' experiences of the transition. My students are free to pose questions about anything that they can connect to the course in some way, and because a sociological lens can be used to analyze pretty much any aspect of social life, they're able to discuss anything that is relevant to them. They have been writing the most incredibly thoughtful analyses of their experiences transitioning from F2F to distance learning! They are supportive of each other's grief over the loss of their time on campus and offer each other tips about how to best succeed at home. They have revealed in their discussions what's been successful for them in terms of their instructors' teaching and their learning and where they are struggling. One student wrote to me thanking me for providing a forum where she can explore current events because it has helped her process the news and changes. I am grateful to be a "fly on the wall" to the kindnesses and support they've shown each other and learning about their lives through their discussion has helped me make sure that our course fits their learning needs right now."
In what ways is the experience on Packback different than past experience with discussion boards?
LO: "I love that the students write the questions because they provide the most interesting insights that I never would have thought of! I like being able to provide feedback through Sparks, Praise, and Featuring Posts; those features make it easy to encourage the students and to highlight their hard work. I also really like being able to easily scroll the feed on my phone because I just really love frequently checking in on the interesting things they write."
What has surprised you about your students' discussion on Packback?
LO: "Oh gosh, I can and have talked to pretty much everyone I know about how surprisingly insightful and thoughtful my students' discussions are. I have been surprised at how much of a community they were able to create in such a large class. I am surprised at how engaged with and interested they are in each other's thoughts. I am surprised at how valuable their discussions have been in helping me understand them and their experiences. And I'm totally blown away by the thoughtful and interesting insights they have on their world, especially during this difficult time."