A new article by Xueli Wang for Inside Higher Ed highlights lessons learned from community colleges during a chaotic fall semester. As leaders in innovation serving widely diverse demographics, the takeaways from these institutions in light of COVID are essential for all of higher education.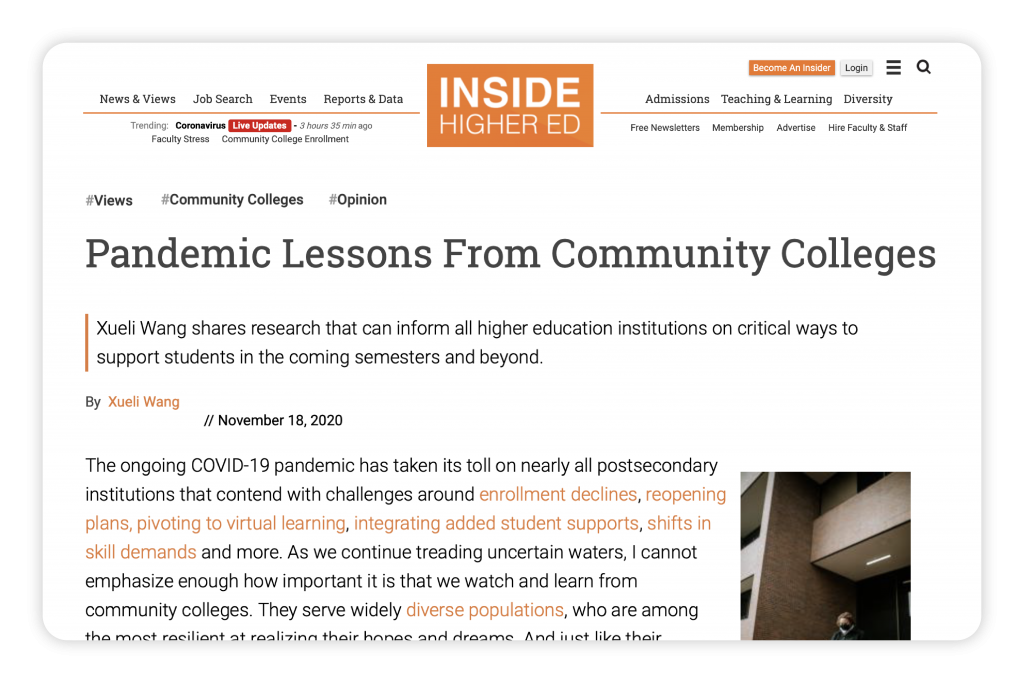 COVID-19 has permanently changed the face of higher education. Presenting educators and students with myriad challenges and new opportunities, there is no shortage of lessons to be learned from the fall 2020 semester.
In her recent article, Xueli Wang, professor of educational leadership and policy analysis at the University of Wisconsin, Madison, shares what higher education can learn from the resiliency and agile adaptation of community colleges during COVID.
Notable takeaways include establishing motivating opportunities for students to engage with one another and encouraging multiple levels of connection to create a sense of community.
"Encourage support-seeking and cultivate multiple levels of connection. Although community college students are agentic and resilient, this should not be the default, especially when it comes to extreme challenges or crises like COVID-19.

A clear, explicit and consistent message from the institution is essential for students to feel that they can and should ask for help. Beyond broad approaches of messaging and support, institutions should ensure diverse channels and ways to cultivate a strong sense of connection for students during difficult times."

An excerpt from "Pandemic Lessons From Community Colleges"



---