In a newly released article, Mick Starcevich, Former President of Kirkwood Community College and Academic Innovation Board member, addresses the need for colleges to consider making the "right investments"– especially in times of fiscal crisis.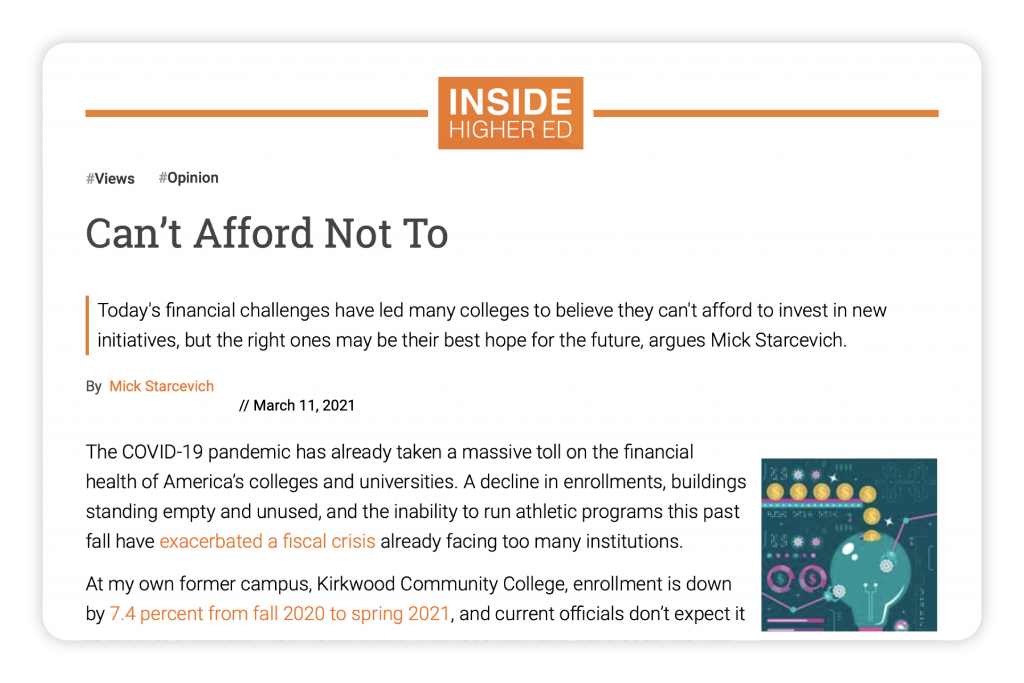 ---
In an article published Thursday in Inside Higher Ed, Mick Starcevich addresses the need for colleges to make smart investments, even when budgets are tight.
Among the many investments made during his 15-year presidency at Kirkwood, Starcevich recalls building a wind turbine and creating a winery to better support students in engineering and hospitality.
The key to making the right investment, Starcevich writes, lies in figuring out what will act as a differentiator for your college. At Miami-Dade College, for example, the implementation of Packback created new opportunities through AI-driven technology.
"In my conversations with administrators and faculty members, I've seen a few examples of tools that have made institutions better prepared to navigate the new world of remote learning.

Kim Coffman of Miami-Dade College, for instance, recently shared with me her enthusiasm about their investment in an online discussion platform designed to help build community even in remote settings.

As she put it, 'When we moved online, I no longer had my physical classroom, office hours or the ability to see my students and their reactions. Packback became our online community, allowing my students to stay connected to me and to one another.'"

Excerpt from "Can't Afford Not To"
---