A recent article by Dr. Richard Pattenaude, chancellor emeritus of the University of Maine System, and KarenAnn Caldwell, assistant professor of chemistry at the University of Connecticut, recognizes that creating an online learning environment in which students find motivation internally is necessary for engagement. Among the list of ways professors can encourage students to push themselves are inquiry-based discussion forums, namely Packback.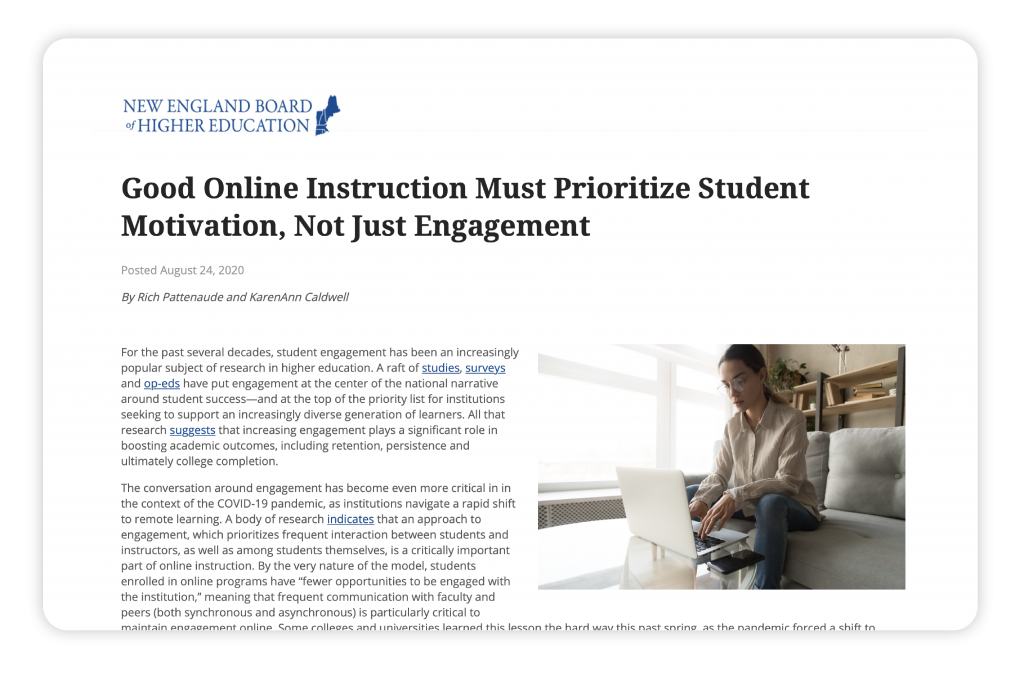 In the wake of COVID-19, student engagement has quickly become one of the most researched topics in higher education.
This NEBHE article by Pattenaude and Caldwell is focused on how instructors can develop new ways of challenging students while keeping them highly engaged in a mostly online setting.
Caldwell and Pattenaude point out that effective online engagement cannot stop at the traditional methods. Now more than ever, technologies like Packback, which spark students' innate curiosity, are in the spotlight.
Some evidence suggests that behavioral nudging with tools like AI chatbots can motivate students to complete critical tasks that lead to improved retention and completion. Similarly, inquiry-based discussion platforms like Packback have proven effective at cultivating students' internal curiosity and sparking motivation.

In the words of Charles Goodnight, a biology professor at the University of Vermont, such platforms have shown promise in creating "engaging communities in remote classes—by encouraging students to go beyond lecture and lead the class in directions that interest them the most."

An excerpt from "Good Online Instruction Must Prioritize Student Motivation, Not Just Engagement"
---