In response to ChatGPT and other AI-generated writing programs, Packback has released a new feature called A.I. Writing Detection. This update will detect and flag AI-generated content in its student-led discussion platform, Packback Questions, and its essay writing and research coaching platform, Deep Dives.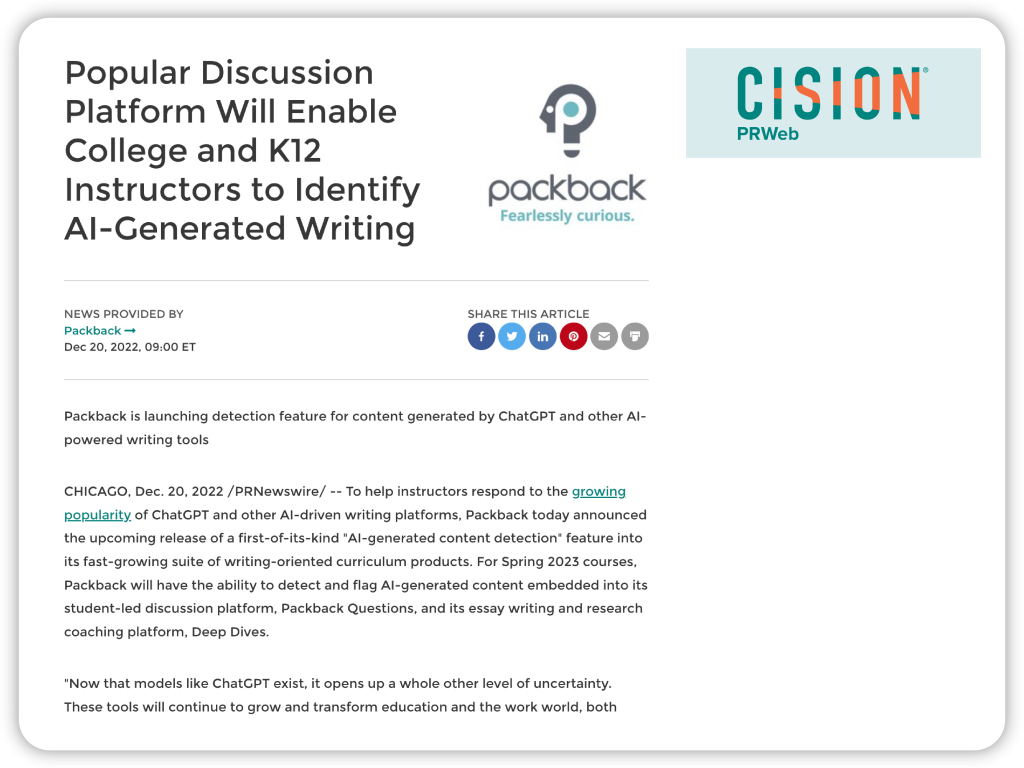 Released November 30th, 2022, ChatGPT already has millions of users, including students. The tool uses A.I. to respond to users' prompts with incredibly realistic predictive text, allowing for seemingly-infinite usage, including the creation of essays.
In response, Packback now automatically detects AI-generated content, expanding upon the existing automatic content moderation capabilities on the platform which include plagiarism detection, profanity detection, source quality detection, and more.
Unlike generative-AI models like ChatGPT, Packback uses AI to coach students to build their critical thinking and writing skills. Using its unique instructional AI, Packback provides students line-by-line feedback on the efficacy and clarity of their writing alongside explanations of why they received a given piece of feedback to teach them how to improve their work.
This detection technology will be available on Packback's discussion platform, Questions, and its new essay writing platform, Deep Dives.
"Now more than ever, it's critical for higher ed institutions to proactively invest in tools that use AI to support instructors. Platforms like Packback are a model for the profound promise of AI in education as a tool to not only help students grow as writers, but also enable instructors to navigate and respond to the impact of tools like ChatGPT."

Nestor Pereira, Vice Provost of Academic & Learning Technologies at Miami Dade College
"Tomorrow's world of work will be one where professionals collaborate alongside generative AI, which means it's more important than ever to help students build the skills of critical questioning, editing, curation, and self-reflection. We're excited to continue exploring the role that instructional AI can play in helping today's students navigate a rapidly changing and increasingly digital world."

Dr. Craig Booth, Chief Technology Officer at Packback
---