At Packback, our goal is to help every student develop their unique voice and the writing skills to express it. We believe in using technology to change outcomes rather than just score them and that students shouldn't have to fail in order to learn from mistakes.
That's why we're excited to launch "Teach with GPT," a suite of free tools that turns ChatGPT into an educator super-power.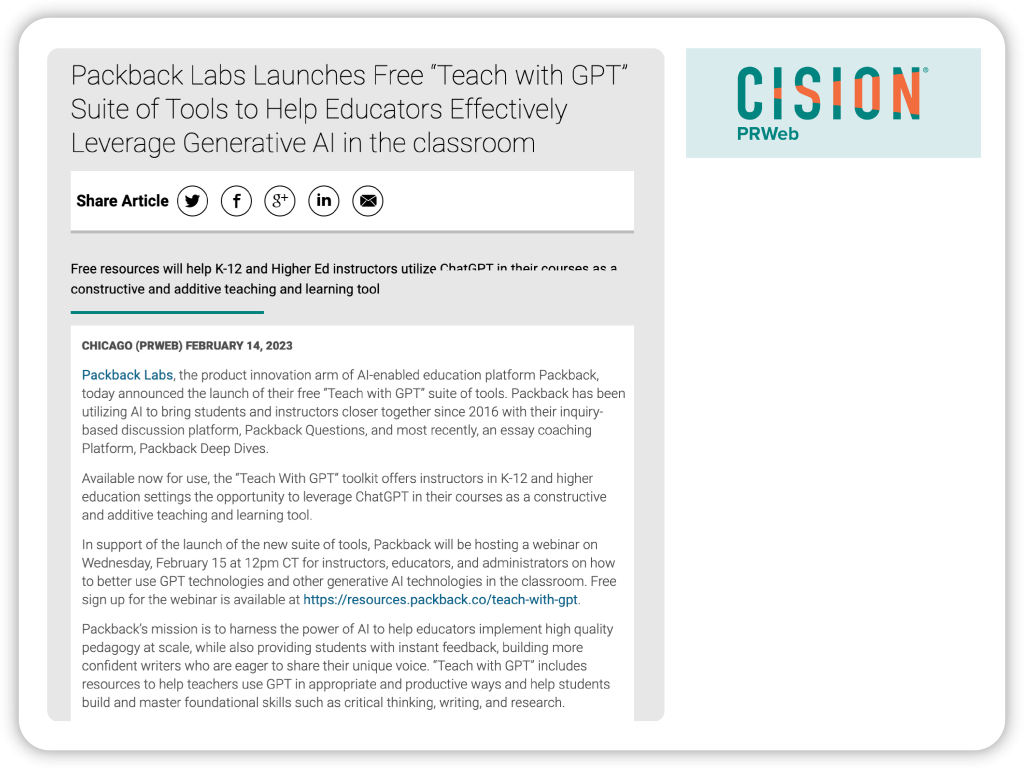 Packback has brought instructional AI to the classroom for years via Packback Questions and, more recently, Packback Deep Dives. With the growing popularity of tools like ChatGPT, Packback Labs has created "Teach with GPT," a free suite of tools which leverages GPT as an additive learning tool.
"Teach with GPT" currently offers four unique resources:
CheckGPT
"Fact-Check the AI" Assignment Generator
Closed-Ended vs. Open-Ended Questions with GPT
Course-to-Career Connector
In support of the launch, Packback is hosting a webinar showcasing the new tools on 2/15 at 12pm CT. Following the event, a recording of the webinar will be posted on the company's website.
"Packback has been leading the use of AI in the classroom for years with the goal of bringing educators closer to their students. We know firsthand how well AI applications can be utilized to help students build skills in areas like critical thinking, writing, and research. GPT offers another valuable opportunity for educators to deploy AI as an effective learning tool rather than viewing it as a threat, and we believe that to best prepare students to truly thrive in a post-AI world, these technologies need to be embraced in constructive, creative coursework."

Jessica Tenuta, Co-Founder and Chief Product Officer at Packback