In a recent article in Diverse: Issues in Higher Education, staff writer Sara Weissman offers the Anti-Racist Discussion Pedagogy guide as a resource for instructors across disciplines who are looking to facilitate an anti-racist dialogue in their classes.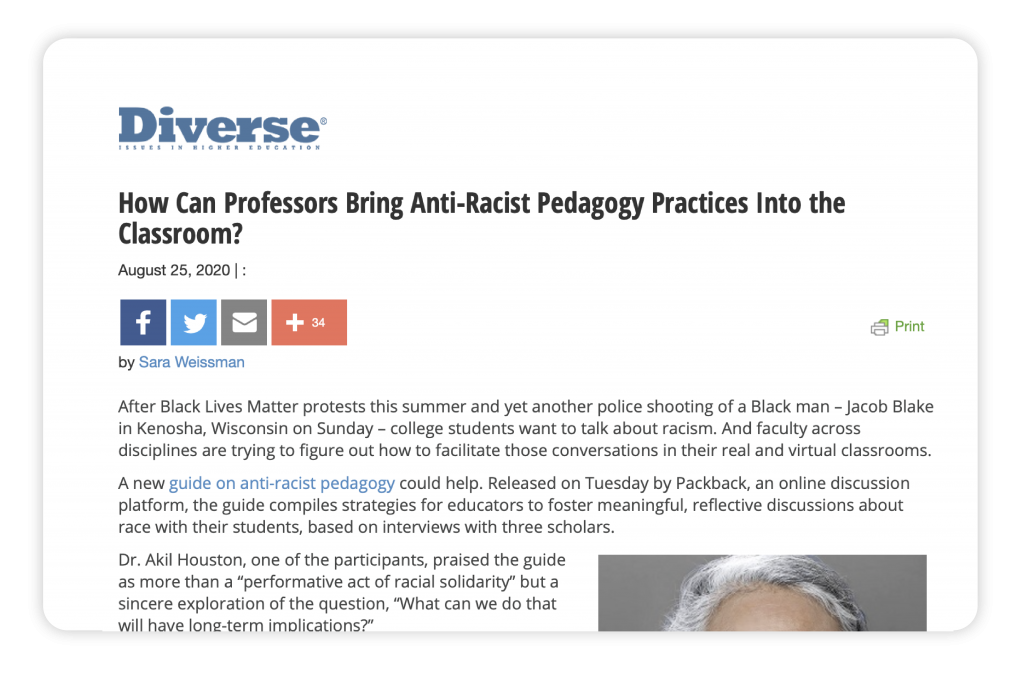 Following a summer marked by widespread Black Lives Matter protests and continued violence against Black bodies, Sara Weissman writes that facilitating necessary conversations around anti-racism can happen seamlessly with the help of Packback's Anti-Racist Discussion Pedagogy Guide.
The guide, co-authored by Dr. Selfa Chew, Dr. Akil Houston, and Dr. Alisa Cooper, plays an essential role in making sure instructors have the tools for navigating what can oftentimes be daunting conversations with their students.
Weissman places emphasis on the authors' sentiment that while instructors do not need to be experts in these conversations, preparation is key in ensuring that they are ready to successfully guide their students through a dialogue.
Released on Tuesday by Packback, an online discussion platform, the guide compiles strategies for educators to foster meaningful, reflective discussions about race with their students, based on interviews with three scholars.

Dr. Akil Houston, one of the participants, praised the guide as more than a "performative act of racial solidarity" but a sincere exploration of the question, "What can we do that will have long-term implications?"

An excerpt from "How Can Professors Bring Anti-Racist Pedagogy Practices Into the Classroom?"
---