In an article via Campus Technology, author Rhea Kelley writes about Ivy Tech's recent partnership with Packback and its potential to close campus-wide equity gaps through research that aims to identify the best pedagogical approaches for engaging students from underrepresented groups.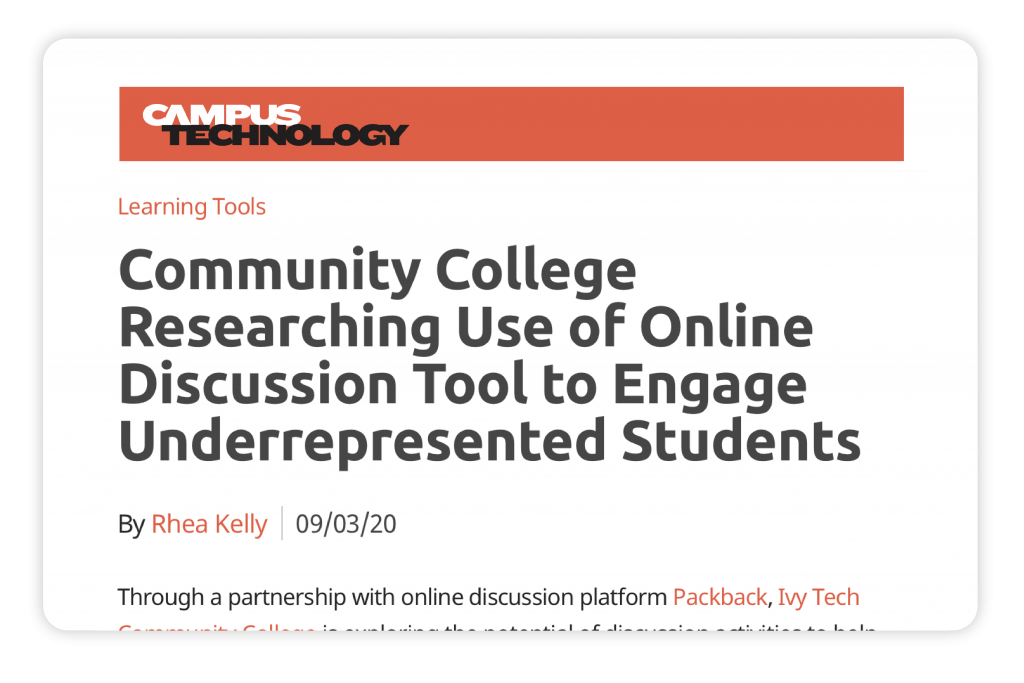 The Ivy Tech Community College System's partnership with Packback comes at a time when creating more equitable and engaging classrooms is every instructor's top priority.
In the article for Campus Technology, Rhea Kelley details Ivy Tech's research with Packback. Among other goals, Ivy Tech hopes that research with Packback will identify the best pedagogical approaches to improve outcomes for students from historically underrepresented backgrounds.
In initial pilots, Ivy Tech researchers found that courses using Packback reported higher overall grades and higher levels of course satisfaction among students.
"The lasting impact of the COVID-19 pandemic has made it more important than ever to ensure that the online learning experience is as effective — and fulfilling — as in-person programs," commented Nicole Duttlinger, adjunct faculty member at Ivy Tech, in a statement.

"Packback's technology, including its automatic feedback system, is rooted in sound pedagogy and a commitment to fostering students' intrinsic motivation. Their platform has boosted participation rates in four sections, and enabled me to focus less on discussion logistics and more on course content and mastery."

An excerpt from "Community College Researching Use of Online Discussion Tool to Engage Underrepresented Students"
---