Dr. Jeremy Van Hof, director of Learning Technologies at Broad College of Business, says that sometimes what's new isn't necessarily what's best. What actually makes the difference between a shiny new tool and a tool that you need in your classroom? One that builds on traditional methods rather than avoiding them altogether.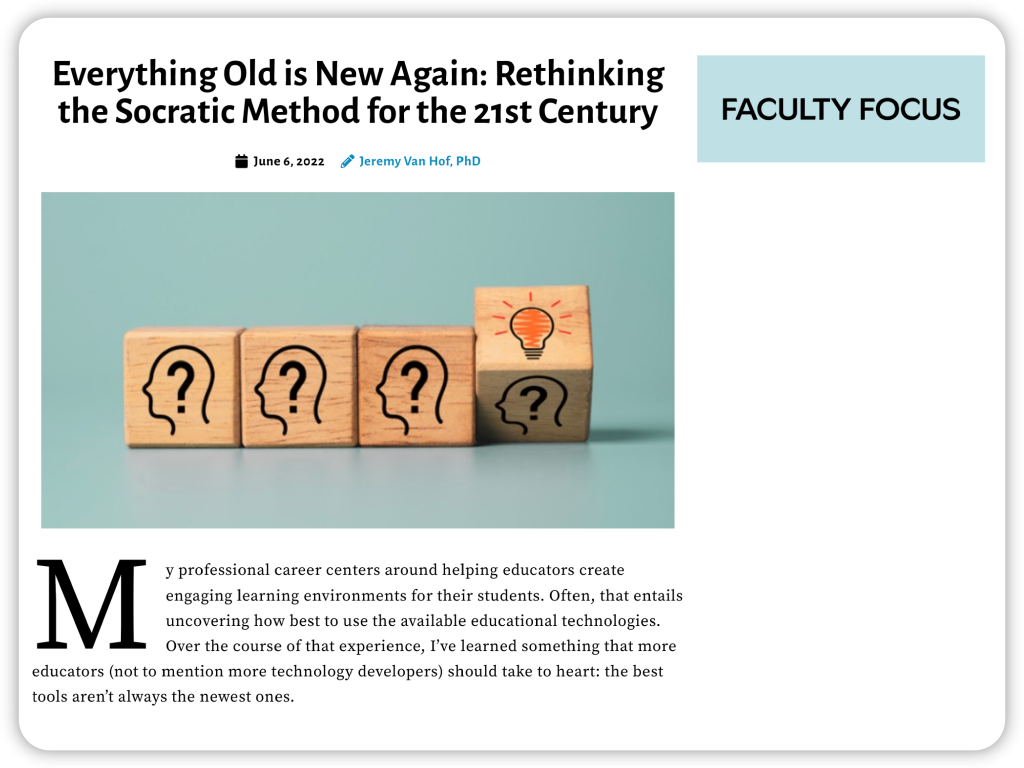 In a new article for Faculty Focus, Dr. Jeremy Van Hof shares the key differences between EdTech that's worth implementing and EdTech that just fills space.
One of the most important factors? Finding EdTech that honors tried and true teaching methods while offering a fresh take on them. Dr. Van Hof offers the Socratic method as an example; tools that put a unique spin on the inquiry-based model offer students the chance to learn from varied perspectives.
Another part of making that distinction, Dr. Van Hof writes, is identifying how a specific tool will complement instructors' pedagogy – not the other way around. Once a tool's pedagogical credibility is established, students and instructors can move forward confidently and with purpose.
"Importantly, inquiry-based tools also offer new ways to involve students who have something to share but are reluctant to raise their hands during class. Many such platforms have chat functions that let a generation of multi-taskers hold sidebar discussions while the class is in progress (synchronously) or offer forums where students can debate topics when class is over (asynchronously).

Some tools even let students record short video clips of themselves answering an instructor's questions. Others, like Packback, feature artificial intelligence that can facilitate inquiry-based instruction in an online discussion forum even without hands-on moderation from an instructor."

Excerpt from "Everything Old is New Again: Rethinking the Socratic Method for the 21st Century"
---