In a new article from Campus Technology, Rhea Kelly discusses the early success of Packback Deep Dives. A survey of the very first students and instructors who used the tool revealed improvements to student writing and the instructor grading process.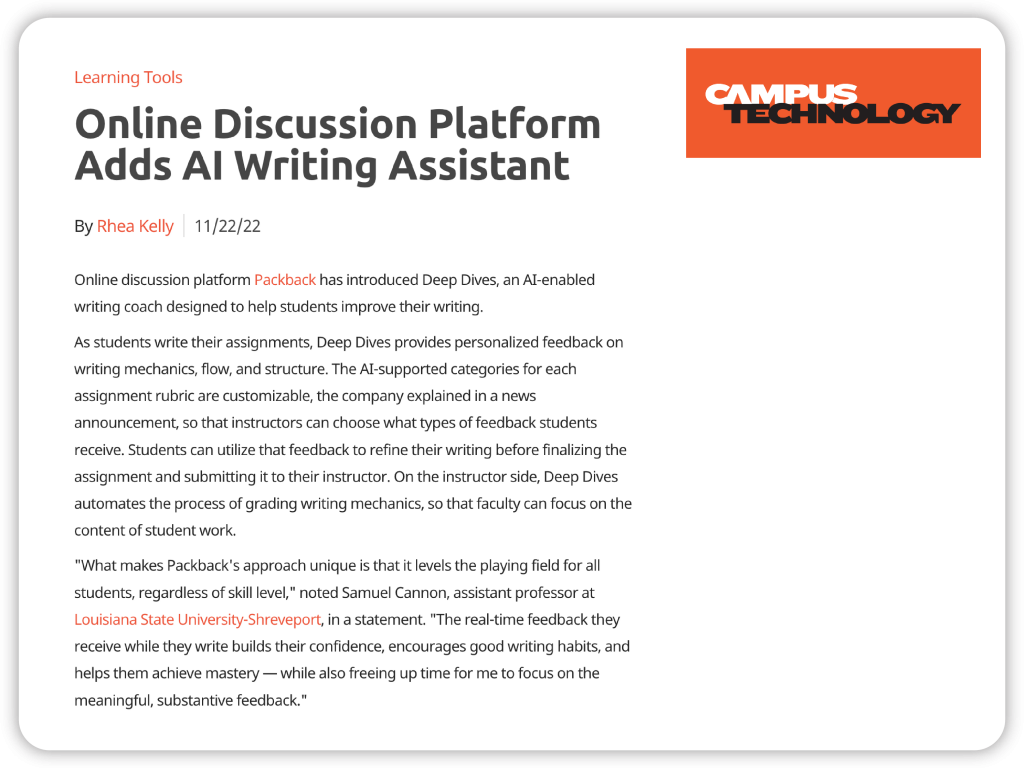 Deep Dives is Packback's new tool made to improve student writing. The AI-powered assistant provides personalized, real-time feedback on criteria set by the instructor so students can be sure they are submitting their best work. When instructors grade these papers, they are able to focus more on the content and ideas of the work rather than the grammar and mechanics.
Packback surveyed 673 instructors and students who used Deep Dives this fall. Students who used the tool last semester reported higher grades and greater confidence in their writing abilities. Instructors said they spent less time grading assignments and were more satisfied with their students' writing skills. Additionally, 78% of instructors found that assigning and grading assignments was more manageable when using Deep Dives.
"The real-time feedback they receive while they write builds their confidence, encourages good writing habits, and helps them achieve mastery — while also freeing up time for me to focus on the meaningful, substantive feedback."

Samuel Cannon, Assistant Professor at Louisiana State University-Shreveport
"The past two years have widened existing gaps in writing proficiency that can cause students to fall behind in their academic progress. Technologies like Packback can ensure that all students receive the formative feedback they need to develop a strong foundation of writing skills."

Jessica Tenuta, Chief Product Officer at Packback