In a recent article for The Hechinger Report, panelists from Packback's "Student Experience" webinar, Jaida Sloan and Austin Catania, share how their professors made a difference in their classes during a semester marked by a health crisis by emphasizing care. Sloan and Catania highlight Packback as one of the ways their professors showed "care through curiosity."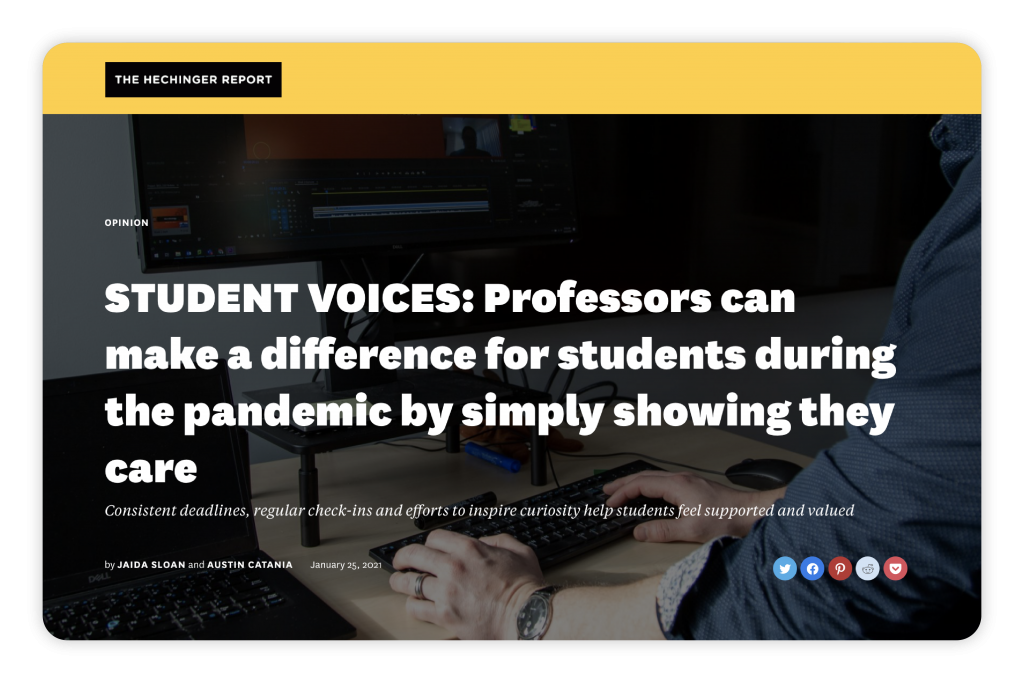 It's no secret that remote learning during COVID has proven challenging for students who are used to face-to-face courses. For many, feelings of isolation and restlessness have taken a toll on mental health and the ability to process new information.
In a new article, undergraduate students, Jaida Sloan and Austin Catania share their personal experiences as students learning amidst a global health crisis. What made the biggest difference in their courses this fall? The little ways that professors communicated care and empathy.
For Jaida, her professor's use of Packback in an American History course demonstrated immense care; giving students the ability to ask open-ended questions fostered genuine curiosity and re-energized online discussions.
"Professor Higham of the University of North Carolina at Charlotte also demonstrates how fostering curiosity is an expression of care. In her American History course, she uses a discussion platform called Packback to encourage students to ask original questions about course material.

That kind of tool is more important than ever in remote learning, when it's harder to stay motivated and engaged. Whereas most online discussion tools are all about the answers, focusing on questions has allowed her class to have more engaging discussions even though they're not able to be together in person.

Knowing that our professors trust us to explore our curiosity, and even guide the discussion, empowers students to engage with the material independently and deeply."

An excerpt from "STUDENT VOICES: Professors can make a difference for students during the pandemic by simply showing they care"
---