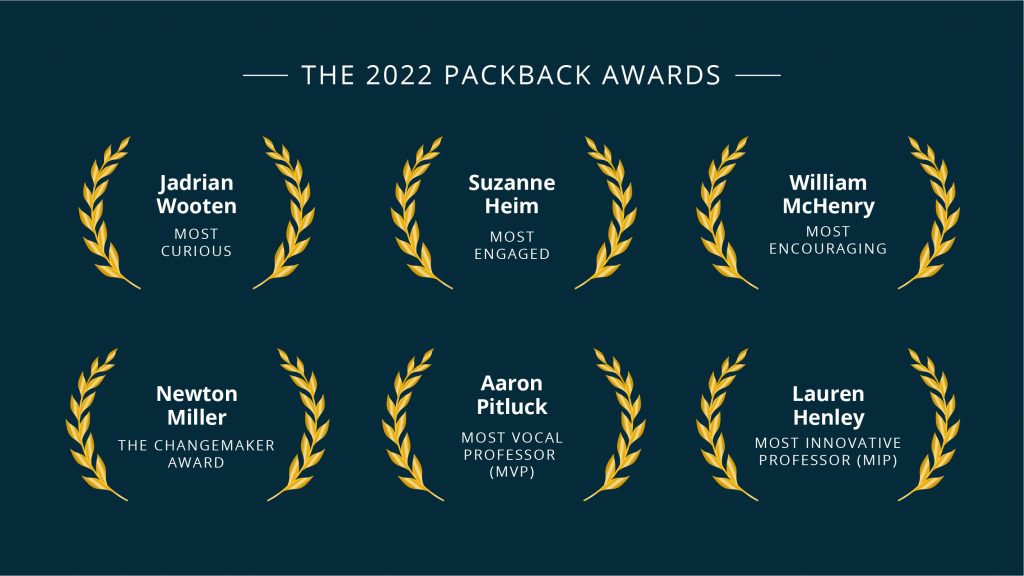 We were so happy to be able to celebrate some of the instructors that help make Packback what it is in our first annual Packback Awards! It's been our mission to bring inquiry-driven learning into classrooms, and that wouldn't be possible without our innovative and supportive educators across the country.
Watch the full-length event on-demand:
---
Highlighted Clips from this Webinar
The Most Curious Award: Jadrian Wooten, Associate Teaching Professor @ Penn State University
In this clip, Jadrian Wooten shares his appreciation for how Packback has allowed him to remain flexible for his students.
Enjoying this recap?
Stay in the loop and receive future webinar invites, insights, and updates from our team!
The Most Engaged Award: Suzanne Heim, English Teacher @ East Rowan High School
In this clip, Suzanne Heim talks about how Packback helped her engage with her students and dig deeper into their thought processes.
The Most Encouraging Award: Bill McHenry, History Teacher @ Charlotte-Mecklenburg Virtual High School
Bill McHenry, a social studies teacher at a virtual high school, talks about how his students have grown on the platform and flourished in the remote environment.
The Changemaker Award: Dr. Newton Miller, Lead Faculty @ the University of Arizona Global
In this clip, Dr. Newton Miller passionately shares what an honor it is to receive the Changemaker Award. His speech discusses the importance of making a difference and giving students the skills to change the world.
Most Vocal Professor: Dr. Aaron Pitluck, Associate Professor @ Illinois State University
Most Innovative Professor: Dr. Lauren Henley, Assistant Professor @ the University of Richmond
Higher Ed Lifetime Achievement Honoree: Mark Reisinger, Associate Professor @ Binghamton University
Want to learn more?
Explore other Packback Webinars
Schedule a time to see the Packback platform