As students move past the unexpected turmoil brought on the spring semester by COVID-19, "high-quality" remote learning is the new expectation. In her recent article for the League For Innovation, Doreen Fisher-Bammer, Associate Provost of Virtual Learning at HACC, uncovers how artificial intelligence plays a key role in improving the online classroom when implemented thoughtfully.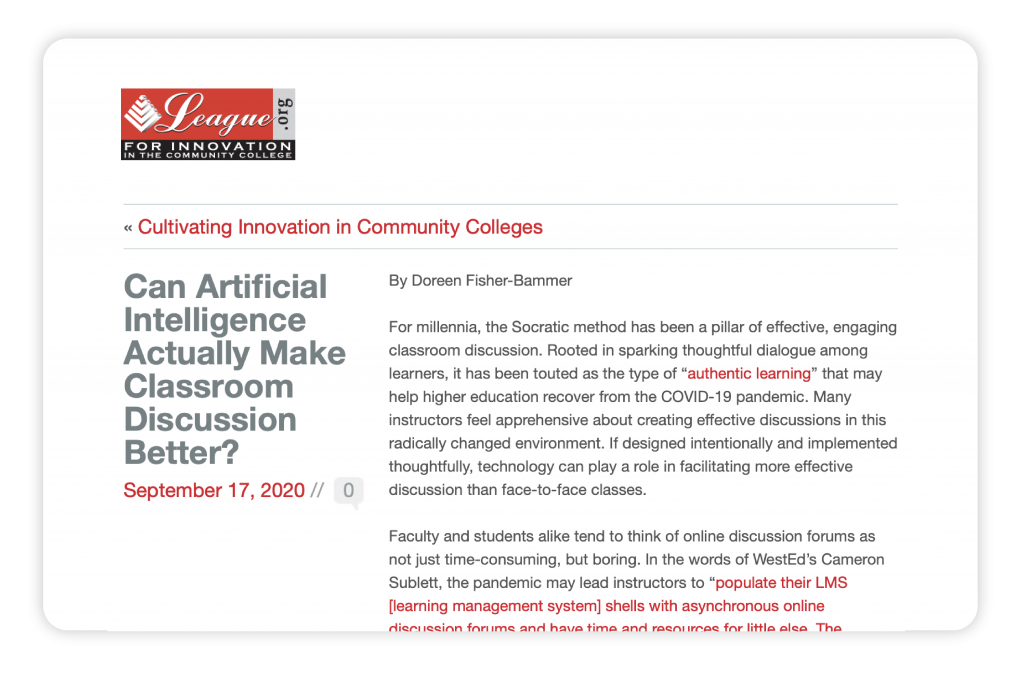 The reality of remote learning as the new normal for educators and students is beginning to sink in. As online classes become the order of the day, instructors are tasked with identifying new ways to keep courses energized and engaging.
In this editorial piece for the League for Innovation, Doreen Fisher-Bammer writes that while face-to-face discussion may no longer be possible, AI has been proven more effective in facilitating meaningful online conversations.
Implementation of new technology could be the necessary change for instructors looking to re-engage and "light the spark of curiosity" in their students, Fisher-Bammer concludes.
AI-powered platforms help by providing students real-time feedback that clarifies their thinking. For instance, Packback's "curiosity score" motivates students to ask tougher questions and find more compelling sources to back up their answers.

The instantaneous nature of AI-based feedback can be less stressful for students, and can help flag issues like plagiarism and inappropriate language that are time-consuming to address in a traditional LMS.

An excerpt from "Can Artificial Intelligence Actually Make Classroom Discussion Better?"
---