Packback Instruct
Engage and support every student with Packback Instruct.
Packback Instruct is a powerful suite of tools for engaging, supporting, and interacting with your class.
Make Packback your central hub for managing writing assignments, inquiry-based learning, and student engagement.
---
What's inside Packback Instruct?
Discussion Polls
Engage your class with In-Class Polls for quick check-ins, or assign in-depth Homework Polls.
Insights Dashboard
Easily track individual students' growth and overall class progress throughout the term.
Match & Message
Message students who meet specific participation criteria to give specific coaching.
---
Discussion Polls
Host engaging in-class and out-of-class debates with Discussion Polls

---
Interactive Insights Dashboard
Turn your community data into actionable insights with the Interactive Insights Dashboard

---
Match & Message
Scale meaningful 1-to-1 instructor interactions with Match & Message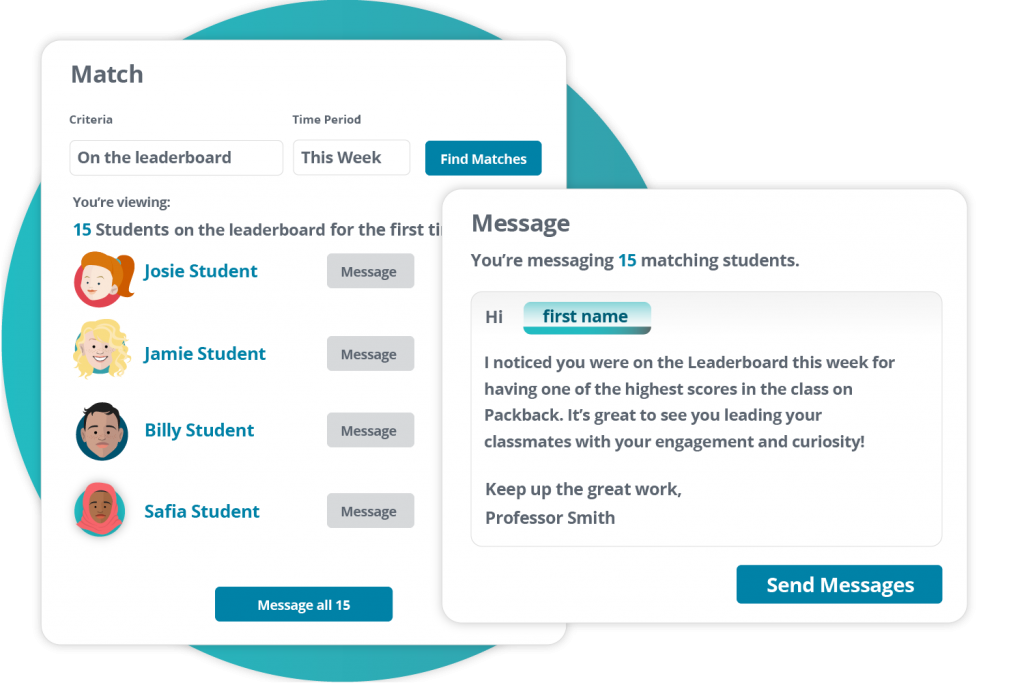 With Match & Message, you can find students whose participation meets specific criteria, and then compose an email to all of those students at once.
Instructors will be able to find and message students who…
• Haven't yet participated
• Didn't yet meet full requirements
• Were featured on the leaderboard
• Haven't yet received instructor feedback
▶️ Video: How Keith Hollowell Uses Match & Message to Connect with His Class
---
Schedule a demo of the Packback Platform
Schedule a 1:1 demo with a Packback team member to see the Packback Platform through a personalized walk-through by video call.
Or if you prefer, you can create an account on Packback to explore the platform.