Kimberly Blanchet, former Associate Vice President for Academic Affairs at SUNY OCC, has joined the Packback team as an Academic Innovation Consultant. With over 7 years of experience making decisions that impacted the future of education for students at Post University and Onondaga Community College, Kimberly is now looking to support innovation in technology used to scale accessible, equitable, and effective learning experiences for students nationwide. Read her thoughts on why she made the move to join Packback.
Written by Kimberly Blanchet, Academic Innovation Consultant at Packback
As a veteran of college academic affairs departments, I've spent the better part of a decade learning about all the ways that online learning can expand access and create opportunity.
My tenure at Post University and Onondaga Community College has helped me understand the challenges faced by today's students and a front-row seat to the impact of online programs. When I think about what effective online learning should look like, my mind turns to working and adult learners — like the mom sitting at home with two kids who can't get to class at 10 in the morning. What kind of support does she need to succeed? How can colleges create a nurturing community for students like her, even when they aren't seeing their instructors or their peers in person every day? And how can schools provide that kind of personalized support at scale?
Those were the questions I wrestled with in the fall of 2019, when I was the project lead for Onondaga's partnership with Packback. A year ago, with the support of Onondaga's leadership and the Packback team, we set out to measure student engagement in online discussion — as one of ten institutions participating in a national study that sought to understand how the application of AI and inquiry-based pedagogy could create more engaging, effective online learning communities. And as the results have begun to come in, the impact is clear: platforms like Packback's help to improve not just discussion quality, but also student motivation, and in turn, academic outcomes.
Of course, a lot has changed since fall 2019. And as institutions around the country grappled with the shift to online learning and the fallout from the COVID-19 pandemic this spring, I thought long and hard about what kind of impact I myself wanted to make. I kept coming back to Onondaga's work with Packback, and the role that technology played in scaling one-to-one feedback, and helping instructors apply core pedagogical principles to support dozens or even hundreds of students in ways that wouldn't previously have been possible. And after a lot of thought, and plenty of guidance and support from Onondaga's president Casey Crabill, I'm excited to join the team at Packback as an Academic Innovation Consultant to help bring that vision of scaling impact to life.
In my new role, one of the things I'm most looking forward to is working with other provosts and administrators across the country. Having spent nearly a decade on their side of the table thinking about how to create change and support faculty innovation initiatives, I know the challenges they're dealing with, and the priorities they're balancing. I've also seen firsthand the way that new approaches to online discussion can both drive student success and relieve burdens for faculty, and am excited to help administrators and instructors explore that opportunity for themselves.
Perhaps most of all, though, I'm excited to help tackle a long-standing challenge that I got very familiar with during my time at Onondaga. For institutions looking to make large scale changes, initiatives like guided pathways, student services, and coaching are often the most necessary and easiest to scale options. Sometimes, the urgency of these priorities can overshadow the possibility of changes that address the dynamic learning modalities of today. Packback's approach demonstrates that synchronously scaling new ideas in the classroom is possible–and when implemented right, these innovations can be transformative for students and faculty alike. That's what motivated me to join the team, and that's what I'm looking forward to the most as we help colleges navigate a tumultuous year to come.
---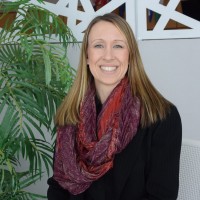 About the author: Kimberly Blanchet is an Academic Innovation Consultant at Packback. Her current role focuses on helping faculty across the nation make scaleable innovations through dynamic online discussion. A former faculty member at Post University and Associate Vice President at Onondaga Community College, working to create pathways to success in higher education is at the heart of Kimberly's work.