In July 2022, MSU IT hosted its inaugural Educational Technology Summit. The week-long virtual event held a series of presentations informing Michigan State's faculty and staff on the technology available to them that can enhance the classroom experience. The summit featured firsthand accounts of how technology impacts teaching and learning in MSU classrooms.
As a university-endorsed technology solution, Packback was invited to host a roundtable discussion titled Resiliency and Inclusivity: How to ensure your course fits the needs of every student. The roundtable was led by Amanda Wickham, a key member of Packback's Higher Ed team, alongside MSU's Associate Professor of Sociology Stephen Gasteyer and Senior Instructional Designer Sue Halick.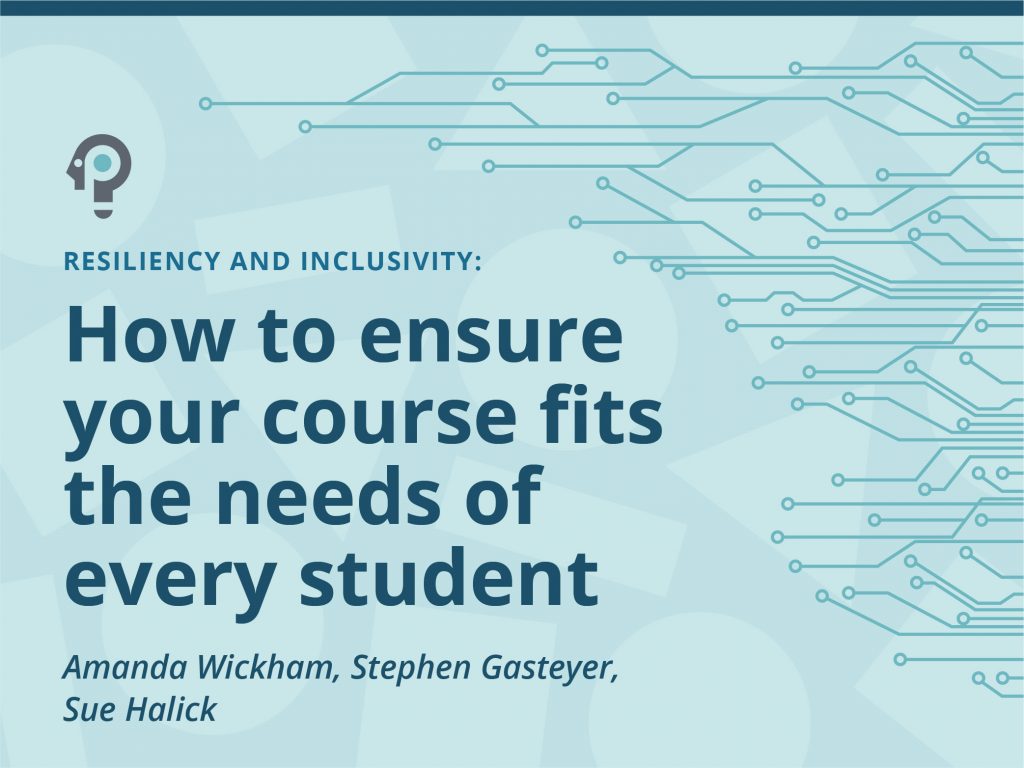 The panel discussed how the strategic implementation of technology such as Packback can make for adaptable, resilient courses which have the power to meet students where they are. Their conversation focused on defining the pillars of a resilient course, understanding the why of a resilient course design, and identifying actionable best practices.
Defining the Pillars of a Resilient Course
In his studies, Dr. Gasteyer analyzes the designs of resilient communities. He defined resilience as "the ability of any given system to withstand shocks and to maintain the basic functions of that system." Therefore, a resilient course is one in which learning and teaching can continue independent of external disturbances. Ms. Halick made sure to emphasize that resiliency does not just apply to students and learning – the way instructors teach has to adapt to shocks too! To achieve this, teachers must "learn new teaching methods which involve active learning and online components."
This focus on active learning leads to another pillar of resilient courses: pedagogy. A course that puts students first and opens up avenues for peer-to-peer feedback will be better positioned to withstand unforeseen circumstances. Creating a sense of belonging by building confidence and granting autonomy to students will result in a greater retention of skills and content.
Understanding the Why of Resilient Course Design
When discussing the "why" behind a resilient course design, the panelists pointed to the uncertainty of the world. Now more than ever, there are bumps in the road that are simply unavoidable. To be resilient, adaptability is key. In education, that means designing resilient courses so that, even when external problems arise, students can continue to learn and teachers can continue to teach. Courses are most successful when they can address individual student needs and withstand unexpected events.
Ms. Halick emphasized the importance of educators designing their courses with visible instructor presence so they can better support the students who are experiencing such shocks. Teachers should "recognize students with a lot of positive feedback," which can be done by implementing Packback in their courses. Instructors also have to be compassionate and recognize that outside of the classroom, students experience a great deal of uncertainty in their personal lives. Instructor presence and compassion work together to build community and a sense of belonging so that students feel supported.
Actionable Best Practices to Employ
"I believe very strongly that they're going to learn as much from each other in interacting as they will from me. My job is just to try to facilitate the conversation."

Dr. Stephen Gasteyer
With Packback, Dr. Gasteyer builds peer-to-peer feedback loops into his classes, allowing for multiple modes of engagement and participation. By building student ownership, his courses become more resilient as students are given the tools to their education.
According to Ms. Halick, the best courses use modern technology that engages students as soon as possible. She pointed to Packback's avatar feature as a great way to generate interest in the class on the very first day. She added that designing courses with accessibility in mind is essential for instructors seeking to foster an inclusive learning environment.
The session concluded by offering three resilient course design strategies: Assessing the Accessibility, Focusing on Feedback, and Building in Flexibility. Attendees gained an understanding of best practices and tools they can use to design resilient and inclusive courses.
Packback's roundtable discussion brought together members of the Michigan State community who want to improve their courses. Technology like Packback builds resiliency and meets the needs of diverse learners. These needs, as Amanda states, are "to feel competent, feel heard, and have autonomy over their learning."
Curious for more information on building resilient courses? Watch the entire presentation on MSU's website!
---