OLC Accelerate 2021 presented the unique opportunity for leaders in higher education to come together and reflect on lessons learned during COVID, as well as share key takeaways from a challenging year unlike any other.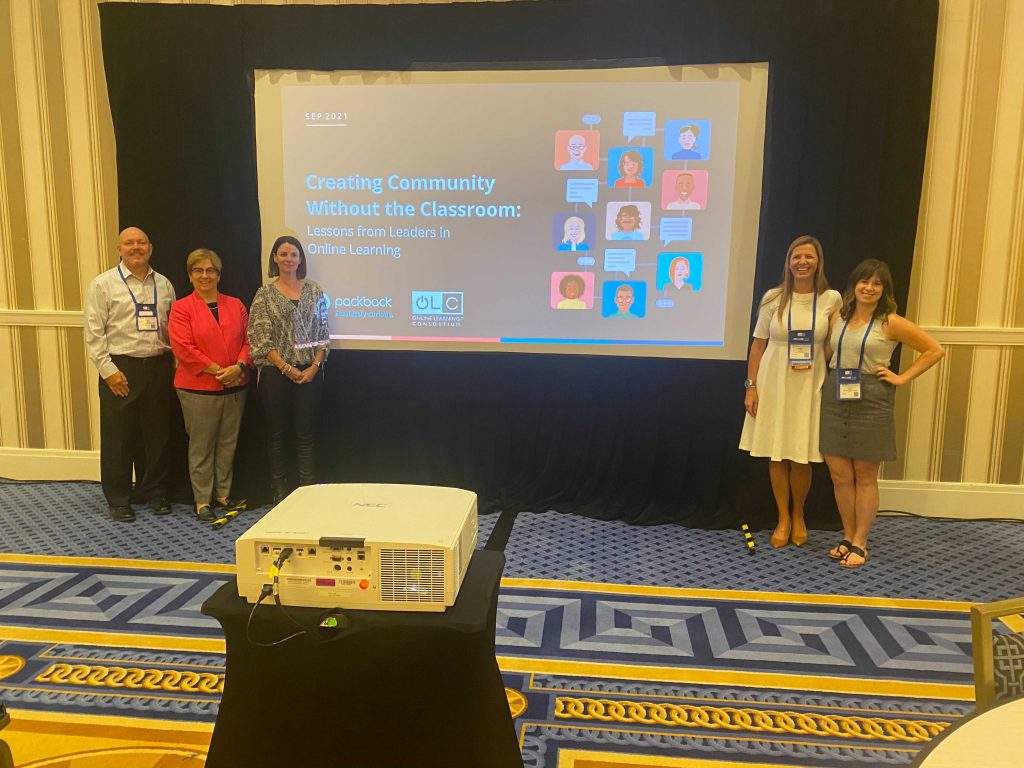 This year at OLC Accelerate 2021, leaders in higher ed technology and instruction came together in Washington, DC to share challenges, insights, and lessons learned after a tumultuous and complex year.
Packback's own featured panel, Creating Community Without the Classroom: Lessons from a Year of Remote Learning, highlighted the importance and effectiveness of technology that encourages community, especially in times where online learning has become the "norm." Dr. Marie Cini, Acting Chief Executive Officer at ED2WORK, led the conversation, joined by Michael Medlock, M.Ed., Interim Dean of Instructional Technology at Rio Salado College, Shannon McCarty, VP of Academic Affairs at Bay Path University, and Allison Rief, Ed.D, Lead Faculty at University of Arizona Global Campus.
Devyn Maguire, a Senior Strategic Account Manager with Packback, attended the live conference and had the chance to reflect on what she took away from her experience. Check out Devyn's key takeaways from OLC Accelerate 2021:
1. OLC Accelerate 2021 highlighted the tenacity, leadership, and grit with which leaders of digital and online learning guided their institutions through the unimaginable challenges 2020 and 2021 presented.
As institutions continue to navigate how to provide inclusive, accessible, and substantive learning experiences, more and more administrators are taking the necessary time to analyze program data and understand where they need to invest time and resources. Awards presented at the conference recognized some of the many experts and change-makers in the field of online and digital learning who were essential in showing their institutions what was possible and needed for learners of today and generations to come. The hope of many at the conference is that we do not revert back to broken systems that created unnecessary barriers for students to access education, but instead we embrace what has been learned over the past eighteen months, listen to the needs of our students, and continue to improve.
Panels and workshops allowed space for attendees to discuss and get hands-on experience with solution-oriented technologies that can support their needs. I particularly enjoyed synchronous and asynchronous offerings of the Technology Test Kitchen led by Cody House, Director of Online Learning and Instructional Technology in the College of Professional Studies at The George Washington University, and Florence Williams, Instructional Designer at the University of Central Florida.
2. Faculty must have a seat at the table.
Across all the sessions and discussions, there was one common theme – the importance of faculty involvement. For years, instructional designers and those in the online and digital spaces have known the importance of leveraging technology to support education. Coming out of 2021, it's especially clear that innovation is only successful when the solutions are pedagogically sound, and faculty are involved in the implementation process. Faculty have faced immense burdens and led the charge in supporting their students – they embraced the changes thrown at them, worked tirelessly to learn new tools, pivoted everything they knew, and supported their students' personal needs as well as their educational goals.
Many faculty and staff we encountered at the conference, like Dr. Emily Frank, Manager of Simulation Education and Innovation Initiatives, and Erolle Dennis-Garner, Clinical Simulation Specialist at University of St. Augustine for Health Health Sciences, have leveraged the potential of 360 technology, virtual reality, and simulation gaming to improve their ability to provide personalized learning pathways to enhance the student learning experience.
It's clear that institutions that are leaning into the potential of what technology can do to provide differentiated and flexible learning paths for students will continue to lead the way forward. However, coming from OLC Accelerate, it's equally apparent that the institutions who lead with faculty involvement and invest in their human resources will have stronger outcomes than those that neglect the worth of their educators and try to drive innovation in a vacuum.
Cole McFarren, Teaching and Learning Innovation Project Manager at University of Arizona Global Campus, showed how UAGC is successfully doing just that in his session, The Classroom Management Mastery Series – A Faculty Professional Development and Badging Framework, which outlined a faculty professional development initiative at University of Arizona Global Campus focused on developing a framework for introducing and reinforcing faculty's knowledge and use of classroom technology. Through this approach, faculty are able to up or re-skill and capture their training through badging, ensuring that they are recognized for their engagement with technology as a tool to improve the learning experience.
"One of the most significant reflections I had coming away from OLC Accelerate 2021 is less and less schools and companies seem to be focusing on fancy technology to solve problems. Solutions seem to be more human focused. The way that Packback empowers students and encourages them to drive the conversation is a prime example of the direction I see online education moving in the future. I was grateful for the time to connect more deeply with our partners at Packback and dialogue with other universities about how they are engaging students and faculty!"

Cole McFarren, Teaching and Learning Innovation Project Manager, Center for Excellence in Teaching & Learning
3. Collaboration is Key: Institutions took the opportunity to share and learn from one another
Multiple panels provided the opportunity for institutional leaders to share their success stories with Packback's approach to online discussion. Many sessions focused on the importance of human connection and the role that technology can play to meet that need.
The Obstacle Can Be the Way: Leadership Lessons Learned through the COVID-19 Crisis and Beyond, led by Katie Scheie, COO of UAGC, Morgan Johnson, VP of Faculty Affairs at UAGC, Eric Klein, Dean of Learning and Technology Resources at Grossmont-Cuyamaca Community College District, and Matthew Rand, VP of Operations & Transformation at Penn Foster, gave authentic insights into COVID's impact on their respective institutions. Panelists provided data insights across categories including mental health, innovation, operations, and beyond. This discussion led panelists to mention Packback as a solution they are looking to, based on the inquiry-driven platform's benefits as instructor and student support.
While we have become increasingly comfortable with our video conferencing tools and virtual environments, the power of human connection was felt at OLC Accelerate. We want to thank all the OLC staff, members, and volunteers for making it safe and possible. See you at OLC Innovate 2022!
---