Outcomes of Using Packback
Outcomes of using Packback Questions for Discussion
Better Writing Quality
Students using Packback Questions wrote more and cited sources over 2X as often (compared to students using LMS discussion boards).

Stronger Engagement
Students on Packback wrote more posts overall, participated more often and more consistently (compared to students using LMS discussion boards).

Improved Grade Outcomes
Improved final course grades have been observed in classes that used Packback (compared to those using the standard LMS discussion board).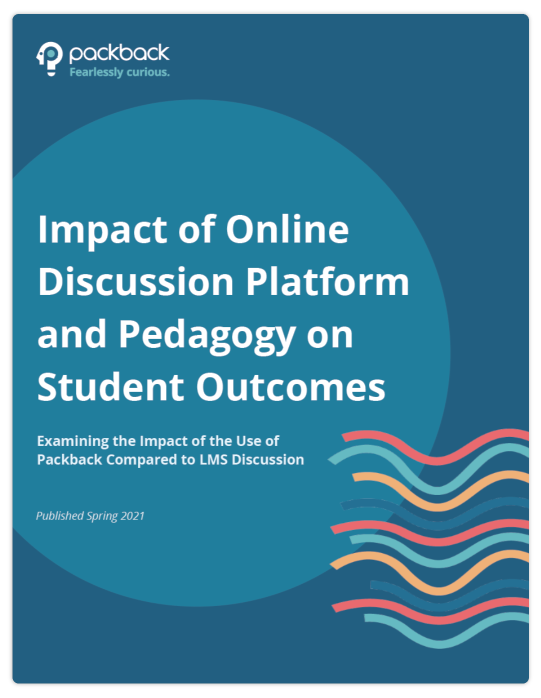 Packback Questions Research Whitepaper: In 2021, Packback collaborated with 10 institutions to perform a multi-semester study of the impact of Packback Questions (discussion). Significant positive improvements were observed to student grade outcomes, student discussion post quality, and student engagement, as compared to classes using the traditional discussion board in the LMS.
---
Outcomes of using Packback Deep Dives for Writing
Improved Student Grades
Students using Deep Dives reported an 11% lift in the number of "A's" received on their writing assignments.

More Confident Writers
Instructors report being significantly more satisfied with student writing quality using Deep Dives. Students report feeling much more confident as writers when using Deep Dives.

Faster Grading
Instructors save an average of 30% of time grading using Deep Dives, compared to grading without Deep Dives. With Deep Dives, 75% of instructors are able to grade an essay in under 10 minutes (compared to 41% without Deep Dives).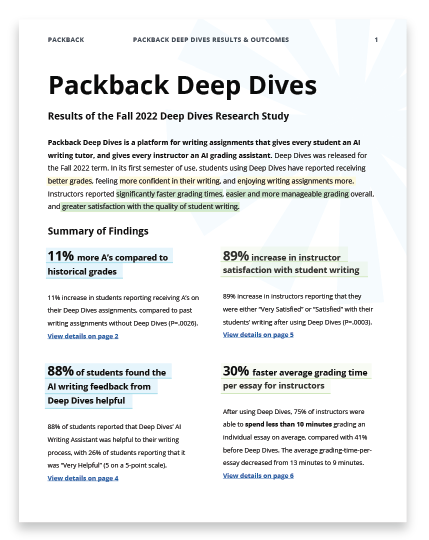 Packback Deep Dives Research Whitepaper: In its first semester of use, students using Deep Dives have reported receiving better grades, feeling more confident in their writing, and enjoying writing assignments more. Instructors reported significantly faster grading times, easier and more manageable grading overall, and greater satisfaction with the quality of student writing.