More engaging. Less grading.
Do more with discussion.
Packback enables Inquiry-Based Online Discussion at scale. Using AI, our platform acts as a Digital TA to coach students to ask their own open-ended questions, auto-moderate the discussion, and help instructors amplify the impact of their feedback.
Professor testimonials after using Packback
"Packback has not only made class discussion more exciting for my students, but for me as well. My students love the autonomy they have over their work in the discussion; as a result they are empowered learners."
Rebecca Nieman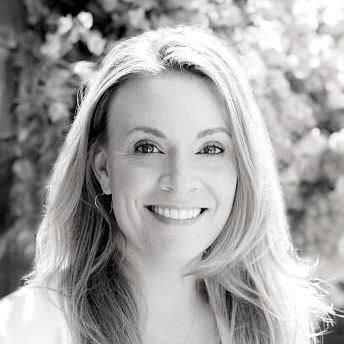 "In essence, Packback finally allowed me to do what I've failed to effectively to do for almost ten years of teaching: scale the Socratic style of teaching to large enrollment courses."
Dr. Jose Vazquez

Packback appeared in the September 2018 cover story of the Chronicle of Higher Education, "How Artificial Intelligence Is Changing Teaching."

Packback, along with several instructors, was featured in the November 2017 Forbes article, "Packback Is Building A.I. To Enhance University Learning."
Research on Packback's efficacy compared to LMS discussion boards was recently presented by Dr. Kathleen West at the NITOP conference.
Our co-founder Jessica Tenuta presented the concept that later grew into Packback Questions at TEDxNormal in 2016.


Drive skill development in effective question formation, writing and critical debate.

Packback delivers real-time feedback to students on how to construct effective questions, responses and arguments leading to skill development that benefits students in class and in their futures.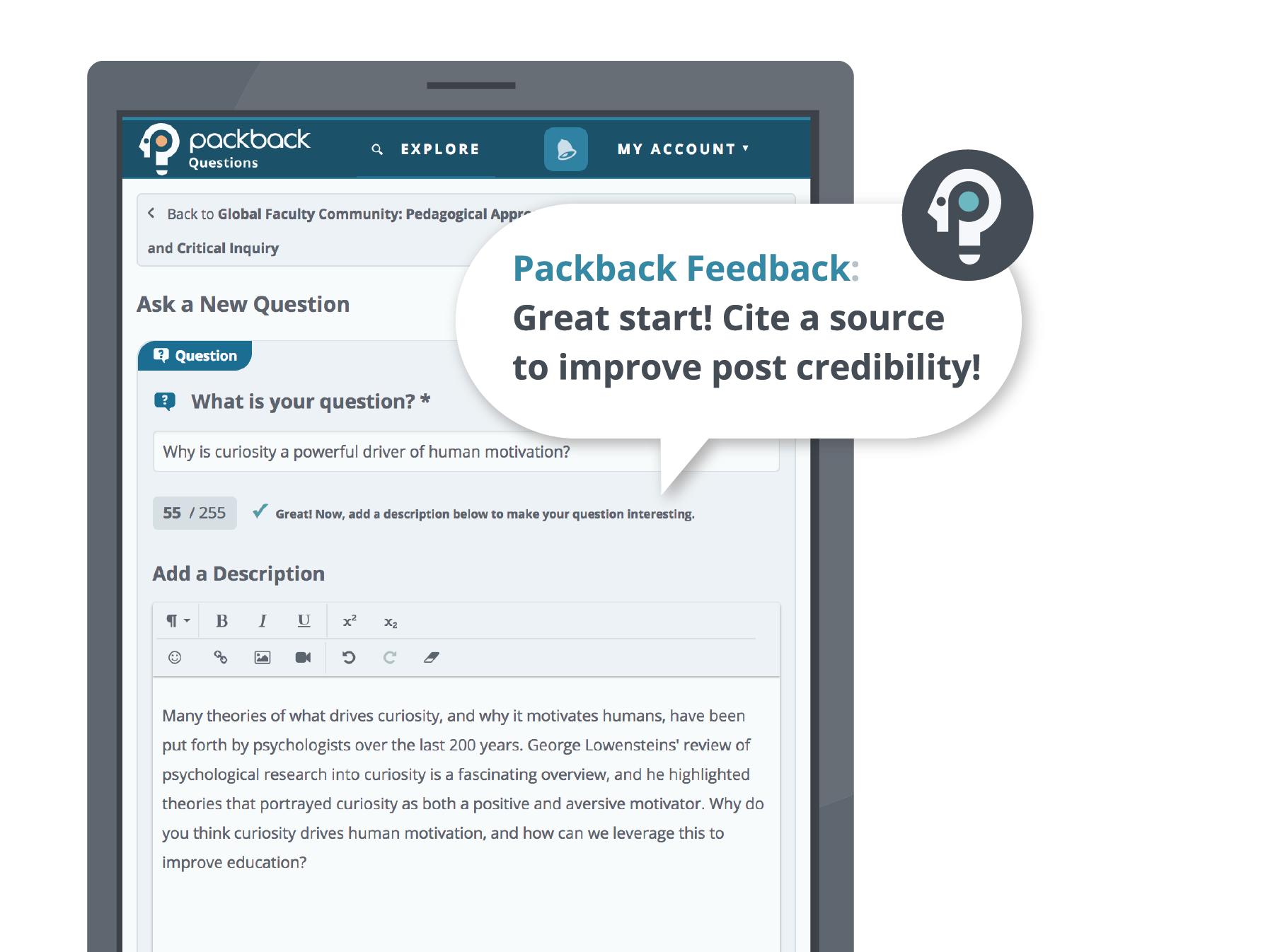 Provide a positive and constructive real-time feedback loop for students day or night.
Packback's algorithms continuously review the community to remove low-quality posts, maintaining a healthy discussion while giving students the opportunity to edit and republish posts for credit.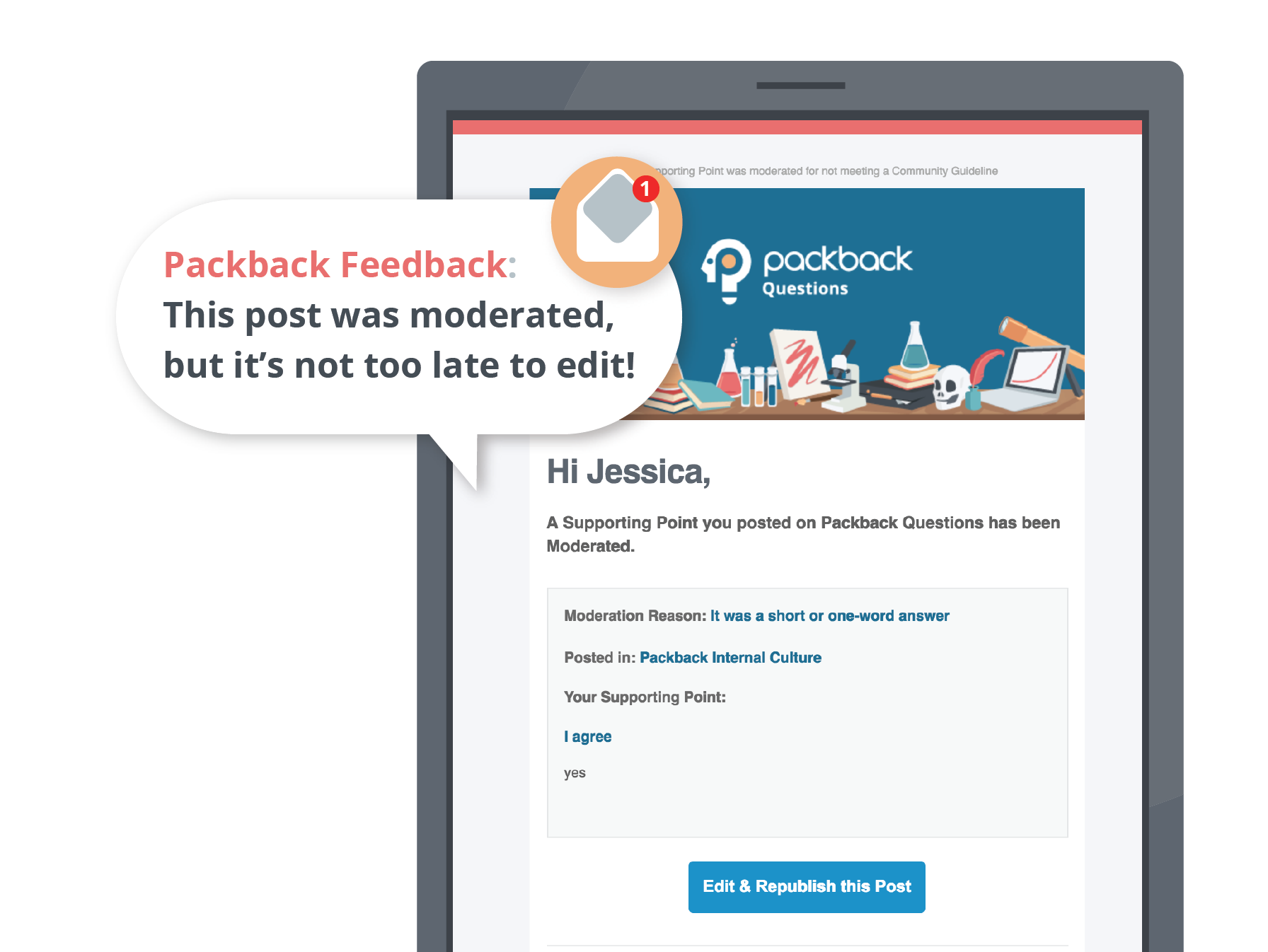 Inspire students' intrinsic curiosity with a tool based on Bloom's Taxonomy of Cognition
Students who use Packback self-report improvements to their confidence in asking questions, their curiosity about the subject and their likelihood to read course materials.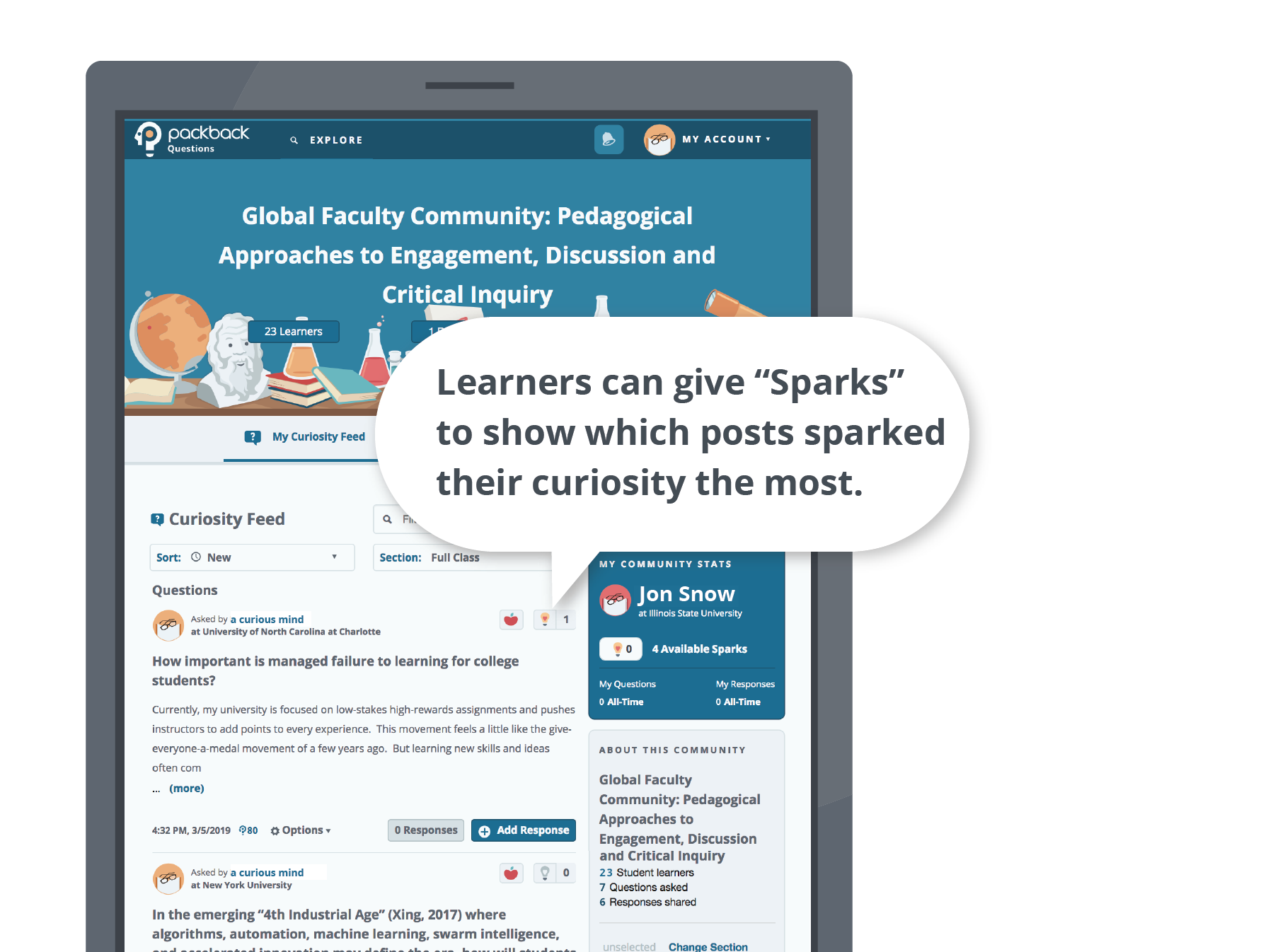 Gain professor superpowers to create greater learning impact with less time and effort.
With Packback, instructors get unprecedented visibility into what makes students curious. Educators who use Packback spend less time on administrative tasks and more time on teaching through the use of our algorithmic support.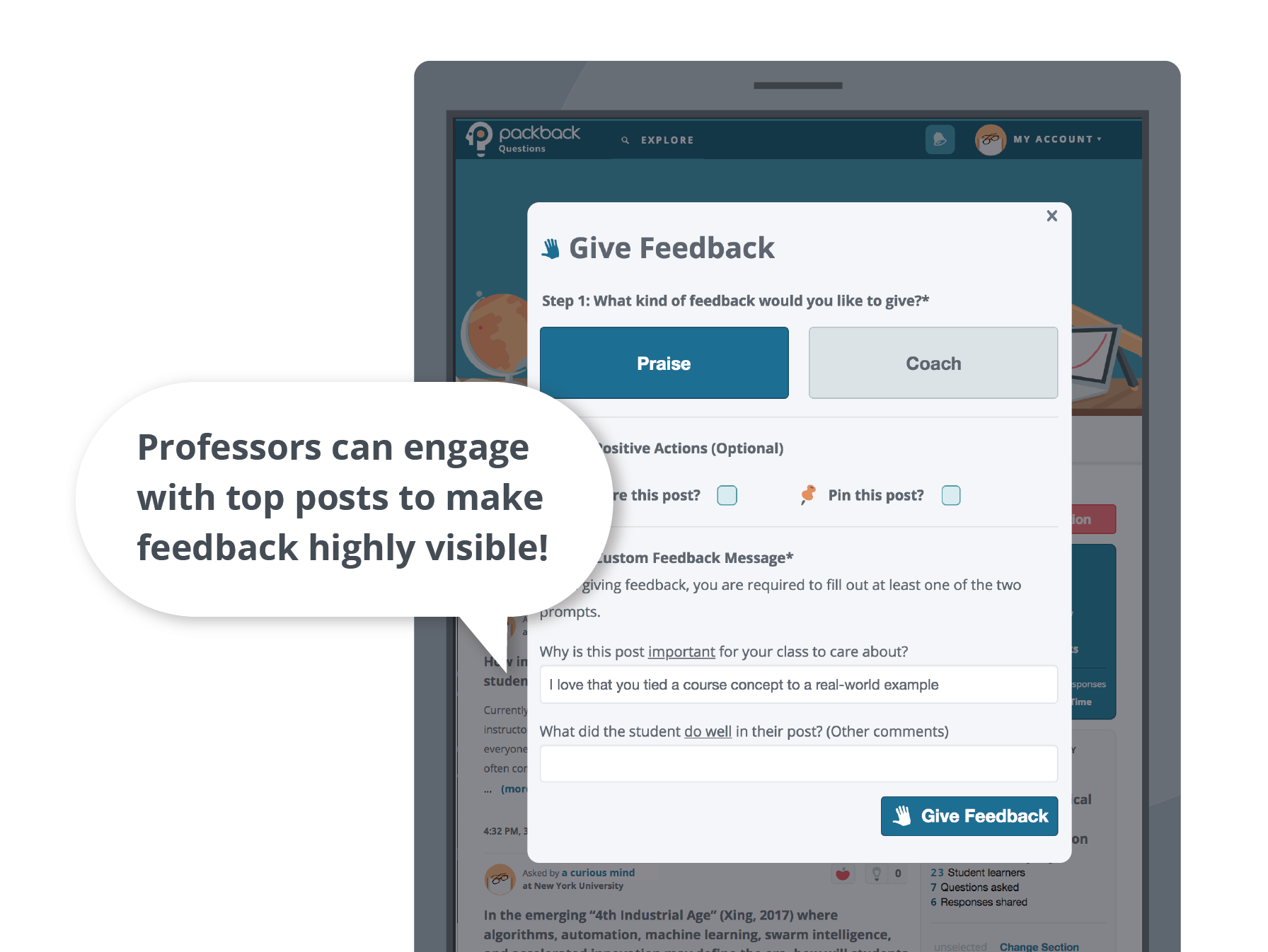 Packback prioritizes security, accessibility and integration.
ADA & WCAG Audited
Packback takes accessibility for ALL learners seriously in our design and development. We strive to adhere to the level AA standards of the WCAG 2.0.
LTI Integrated
Packback is an IMS Global Alliance Partner and offers an LTI 1.2 integration that enables Single-Sign-On experiences for our partner schools.
Statistics on Packback's usage at institutions nationwide
450K
Over 450,000 students have used Packback since May 2016.
254
254 institutions nationwide have students using Packback for discussion.
12M
12 Million student-posted questions and responses since May 2016.
1.5K
Over 1,500 Instructors and professors have used Packback since May 2016.
Want to see a demo of Packback?
One of our friendly Packback team members will be happy to show you a tour of the platform and answer your questions.
---
Or email us at:
curious@packback.co