Resource Library
Featured Resources
While the Packback platform is one great way to bring curiosity, critical thinking, and interaction into a classroom, it is just the beginning. We are excited to share free tools for educators, downloadable eBooks, and guides that provide resources to help instructors create a motivating and curiosity-driven environment in any size class.
Teach with GPT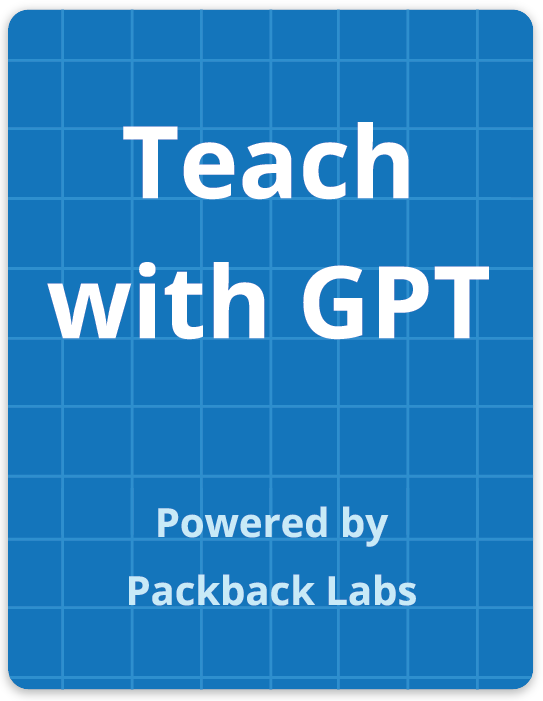 Free Teaching Tools
Teach with GPT is a free resource provided by Packback to give educators tools to incorporate ChatGPT into their courses in interesting and inspiring ways that help prepare students to succeed in a post-AI world. These tools are new and experimental and will be changing rapidly.
Whitepapers
White Paper
Foreword by Dr. Adam Fein, Vice President of Digital Strategy Innovation and Chief Digital Officer, University of North Texas.
This whitepaper provides an overview geared towards educational administrators of how ChatGPT/LLMs work and how they are likely to impact education, alongside a series of predictions of how innovative institutions will likely respond to this moment by evolving alongside AI.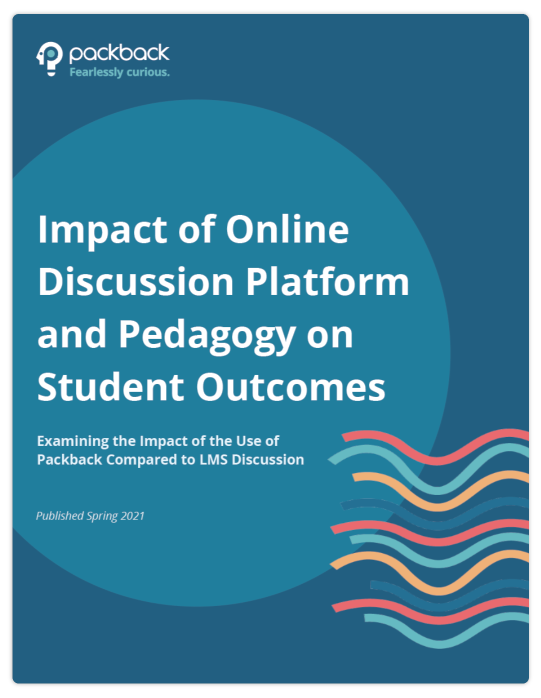 White Paper
This study explores the impact of the use of Packback on grade outcomes, student engagement, and discussion quality. 10 institutions participated in an IRB-approved comparative study of the use of Packback versus the Learning Management System discussion. Students in the Packback treatment group were more engaged, wrote longer posts, cited sources more often, and earned more A's and fewer F's than students in the control group.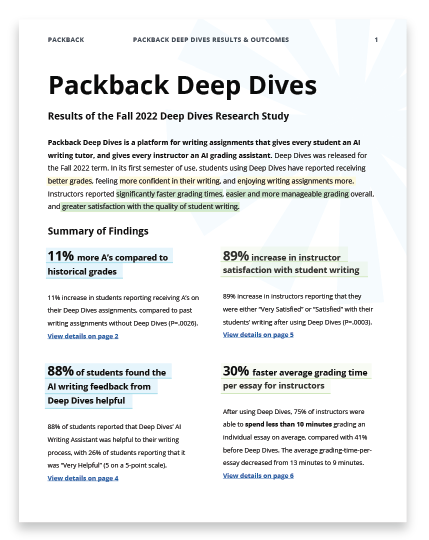 White Paper
Deep Dives was released for
the Fall 2022 term. In its first semester of use, students using Deep Dives have reported receiving better grades, feeling more confident in their writing, and enjoying writing assignments more. Instructors reported significantly faster grading times, easier and more manageable grading overall, and greater satisfaction with the quality of student writing.
Resources and Guides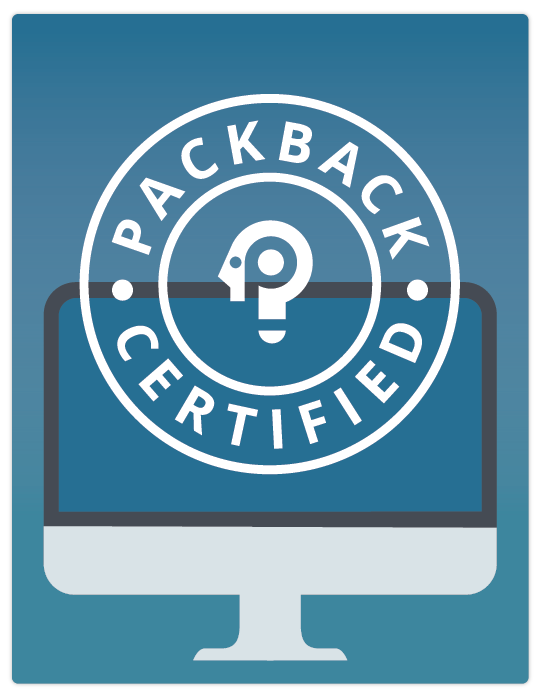 Certification Course
In this certification course, presented by Packback's Chief Product Officer, Jessica Tenuta, you will learn about Inquiry-Based Learning and how these principles are applied in Packback's platform and methodology to drive rigorous discussion, increase student motivation, and inspire genuine curiosity.
By the end of this course, you will also be a master of the Packback platform and how to set up your discussion for success and how to reinforce inquiry learning throughout your course.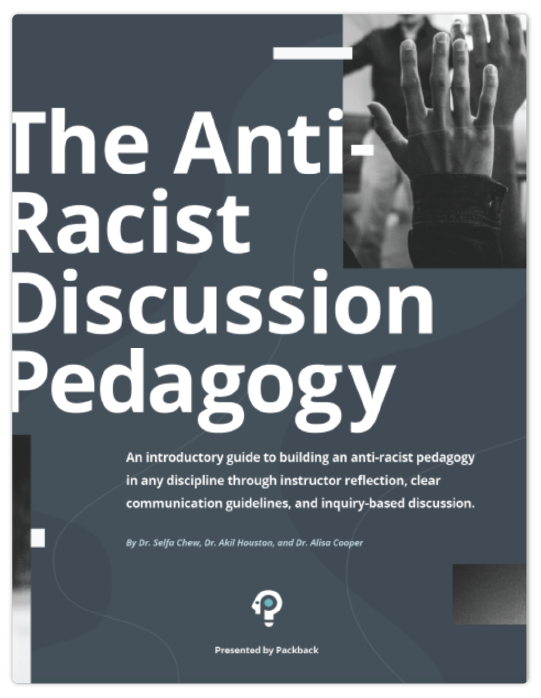 Guide
This guide provides a starting resource for instructors who want to adopt an Anti-Racist discussion pedagogy in their own classroom, regardless of discipline or course subject matter.

The intention of this guide is to balance theory with practical tools for easing the transition to an anti-racist teaching style. This guide was produced in partnership with three exceptional educators who employ anti-racist teaching methods in their own classrooms across disciplines.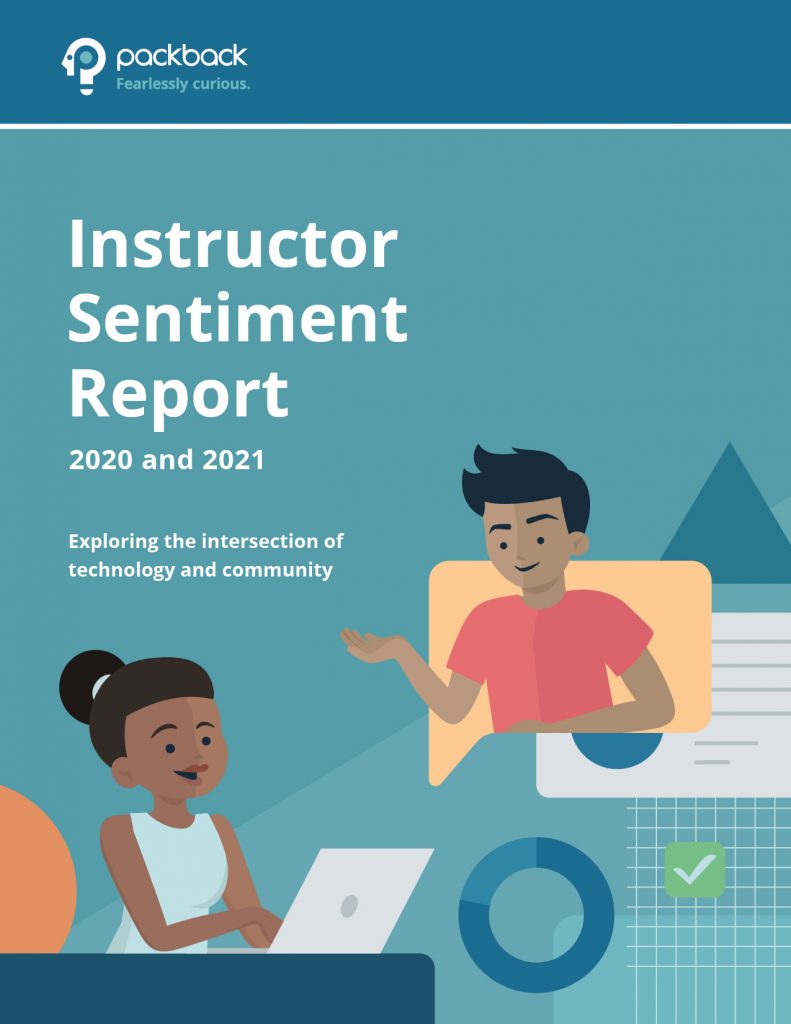 Report
Packback surveyed our network of over 5,000 instructors nationwide to ask about their experiences teaching during COVID and into 2021.
This report details the findings of this survey and explores what has remained consistent for faculty and their students – the importance of community and accessibility in and out of the classroom.
---
Instructor resources
We're excited to partner with you to awaken the fearless, relentless curiosity in your students. Below you'll find a collection of resources to help guide you, no matter where you are in the term.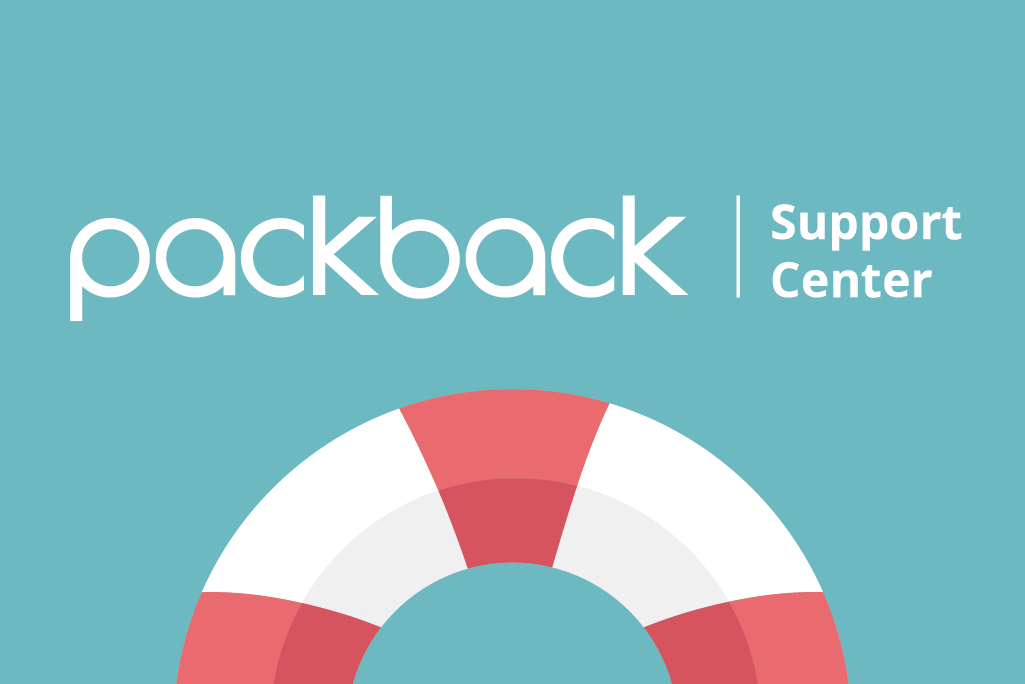 Packback's Support Center
Packback's Support Center has guides to help you with every situation you or your students may run into on Packback! From tech support to tips and tricks, search the Packback Support Center to find answers.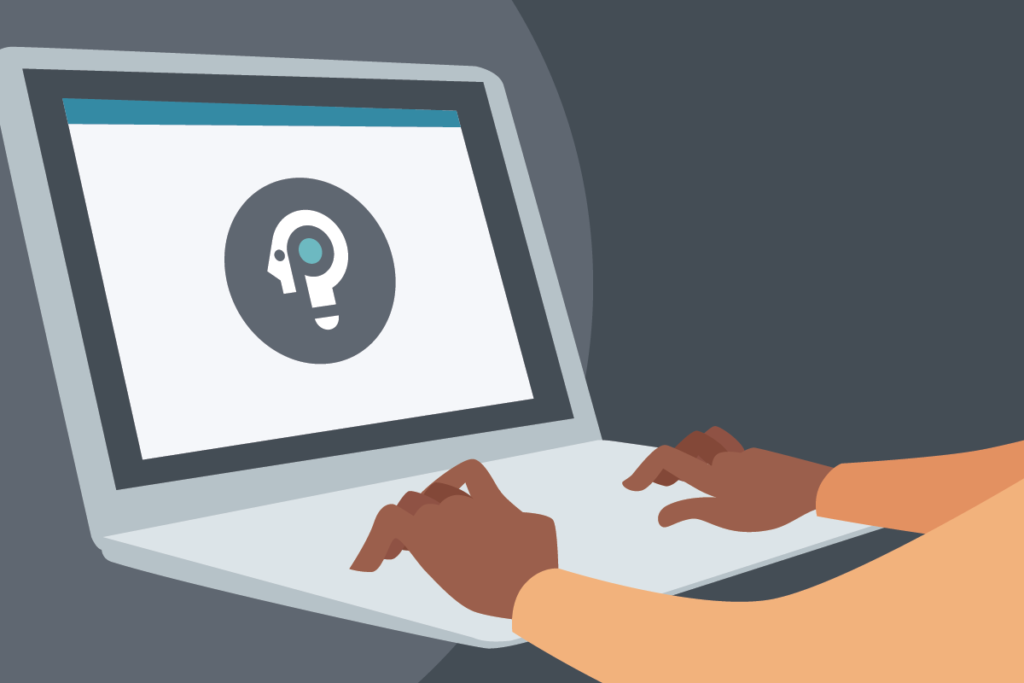 Get Started on Packback
Getting set up on Packback is quick and easy. Seamlessly add Packback to your course and set your students up for success with just a few simple steps – we'll show you how.
How to Integrate Packback into your Course
We've collected feedback from hundreds of past instructors to assemble a guide to help you successfully integrate the Packback platform into your course. Our step-by-step guide will teach you how to set up an effective grading structure, engage with your discussion, and reinforce curiosity in your subject matter.
How to Guides for Packback's Features and Tools
Packback has implemented a variety of tools and features designed to help students engage with course material and build key skills, as well as make grading easier for instructors. Review key features, learn how to use them effectively, and get engagement ideas for using them in your course.
Subscribe to the Lifelong Learner Digest
Curious about the future of higher education? Stay up to date with Packback's Lifelong Learner Digest.