Institutional Licensing
Packback's mission is to help every student develop their unique voice, and the writing skills to express it.
Packback is a single platform for all writing assignments (including plagiarism detection), that uses AI to provide students with immediate, meaningful feedback while they write. This approach leads to greater student autonomy and mastery, and is driving incredible results.
---
The Packback Platform
Packback Questions
Inquiry-Based Discussion
Engage curiosity, increase motivation, and support writing practice with our award-winning discussion platform.
---
Packback Deep Dives
Writing Assignments
Improve and assess students' written communication and research skills on essays and writing assignments.
---
Packback Instruct
Class Engagement
Provide every student with the exact support and praise they need to succeed with highly scalable instructor tools.
---
---
Platform Features
---
Applicable across the curriculum for (almost) any course
Packback is applicable to any course with a writing component. Packback has been used by over 2 million students, at more than 600 institutions, across thousands of different courses and subject areas.
Popular subjects of courses using Packback include:
Psychology;
History;
Biology;
Management;
Marketing;
Communications;
Chemistry;
Economics;
Philosophy;
Education;
Human Resources;
Physics;
Environmental Science;
Art History;
Business Administration;
English;
Language Arts;
Nursing;
Humanities;
and many more
---
Outcomes
Packback leads to more successful student and faculty outcomes than LMS discussion.
Lower DFW rates
Increased A's and B's
More consistent discussion engagement
Improved self-reported writing confidence in students
>30% time savings for instructors when grading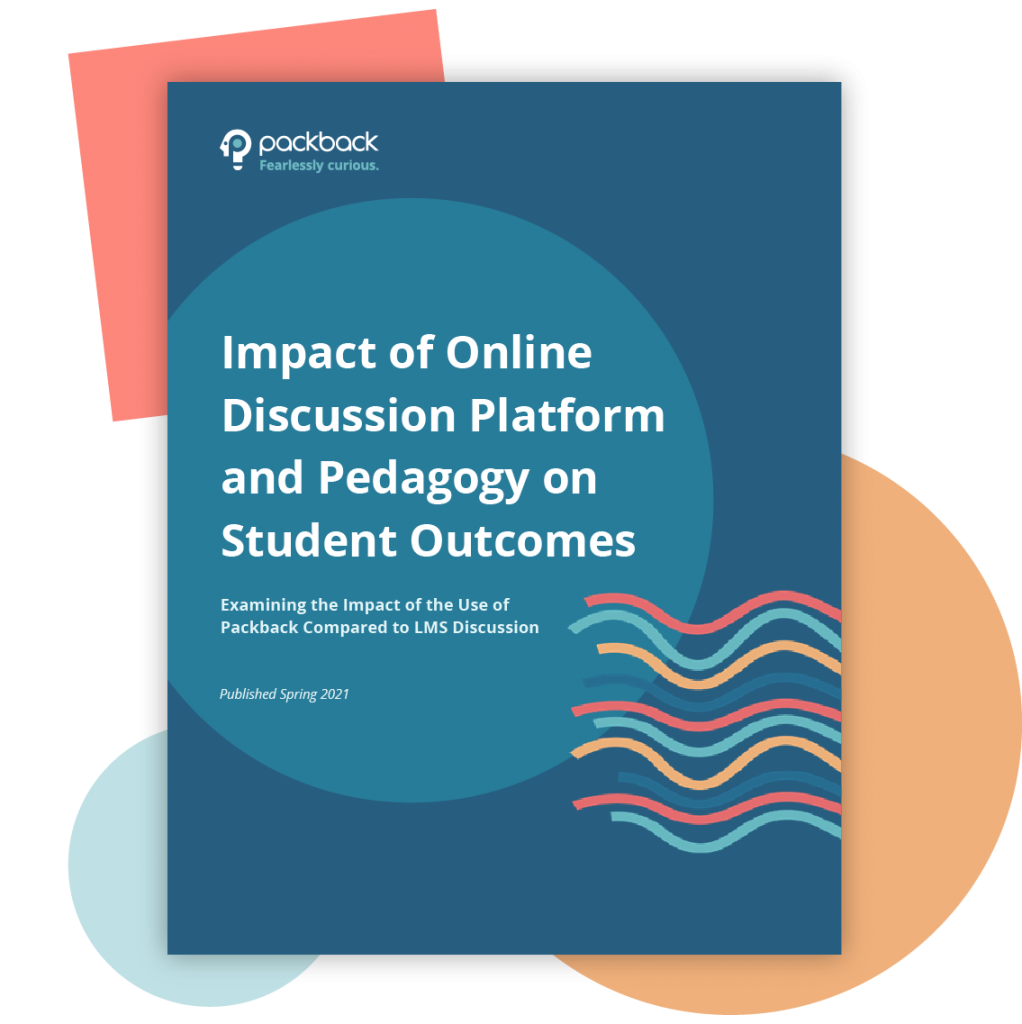 Packback collaborated with 12 institutions to run a multi-year study of student outcomes on Packback.
---
Pricing
Packback proudly offers student-paid or institutional-paid, individual licensing for departments, or campus-wide pricing options.
Packback can support full institution-paid models, institution-subsidized models, and Inclusive Access. Our team will work closely with you to make sure and find the pricing model is the best fit for your institution.
Request a Quote